Try these six delicious, inflammation-busting recipes
Finding ways to eat the right types of foods in a healthy but delicious way can be a challenge. We've developed a few Rheumatoid Arthritis recipes that should give you a boost in Omega-3s and antioxidants. Let us know how they taste in the comments below.
Rheumatoid Arthritis Recipe #1
Salmon Sushi Rolls (RA Recipe)
Ingredients
5

sheets

nori (dried seaweed)

4

oz

sushi-grade salmon

cut into 1/4 by 1/2 by 3-inch strips

1

hot house cucumber

julienne

1

carrot

peeled and julienne

1/2

avocado

thinly sliced

pickled ginger
Sushi Rice
5

cups

short-grain sushi rice, glutinous rice, or "sweet rice"

6

cups

water

1/2

cup

rice vinegar

2

Tbsp

sugar

1

tsp

salt
Instructions
Preparing the Sushi Rice
Place the uncooked rice in a mixing bowl, and add a couple inches of water (room temperature). Cover and soak for 6 hours (or approx. 2 hours, if the water is around 100°).

Next, rinse the rice briefly in cold water while stirring briskly. Drain the rice completely.

Place the rice and the 6 cups of water in a medium sized saucepan and cover it with a tight-fitting lid. Bring the water to a boil over medium heat.

Allow the water to boil for 3 minutes and then reduce the heat to low and continue cooking 15 minutes without removing the lid.

Remove the rice from the heat and remove the lid (the water should no longer be visible).

Using a spatula or rice paddle, spread the rice evenly on a well-greased cookie sheet.

Sprinkle the rice with the vinegar, sugar, and salt while mixing with a spatula or rice paddle until the rice reaches body temperature.

Importantly, keep the rice covered with damp paper towels or napkin until the rice is ready to use (continue onto the directions).
Directions
Place a nori sheet lengthwise on a bamboo rolling mat, shiny-side down. Position the sheet about 1-inch from the edge of the mat, closest to you, and leave some of the bamboo mat exposed on either side of the nori sheet.

Next, wet your hands in cool water and take a handful of sushi rice. Place the rice in the center of the nori and use your fingers to spread the rice evenly over the nori. Be sure to leave a 3/4-inch strip of nori uncovered on the far side.

Place salmon strips and some julienne vegetables, cucumber and avocado along the center of the rice.

Be careful not to overfill the nori. Place your fingertips over the fillings to hold them in place.

Use your thumbs to lift up the edge of the bamboo rolling mat closest to you. Begin rolling the mat away from you, while applying pressure to the fillings to keep the roll firm. Roll the mat over slowly until it covers the rice and the near and far sides of rice join, still leaving the 3/4-inch strip of nori, rice-free, exposed. While holding the bamboo mat in position, apply pressure to the roll with your fingers to make the roll firm.

Finally, slice the roll in half, then cut both rolls twice to make 6 equal-sized pieces.
RA Recipe #2
Leek, Asparagus & Herb Soup
Ingredients
1

Tbsp

olive oil

extra-virgin

2

medium leaks

trimmed, washed and finely chopped

2

cloves

garlic

minced

1/2

lb

new potatoes

scrubbed and diced

2

cups

chicken or vegetable broth

reduced-sodium

1

lb

fresh asparagus

trimmed and cut into 1/2-inch pieces

2/3

cup

snow peas or sugar snap peas

stemmed and cut into 1/2-inch dice

3

Tbsp

fresh chives

chopped, divided

2

Tbsp

fresh flat-leaf parsley

chopped

1

Tbsp

fresh dill

chopped

2

tsp

fresh chervil

chopped, plus sprigs for garnish

2

cups

1% milk

1

Tbsp

lemon juice

1/4

tsp

salt

or to taste

freshly ground pepper

to taste

1/3

cup

low-fat plain yogurt

for garnish
Instructions
Heat oil in a large saucepan over medium-low heat. Add leeks and cook, stirring often, until softened but not browned, about 5 minutes. Next, add garlic and cook, stirring, for 1 minute.

Add potatoes and broth; bring to a simmer over medium-high heat. Cover and reduce heat to medium-low. Simmer, stirring occasionally, until the potatoes are tender, 10-15 minutes.

Increase heat to medium-high and stir in asparagus and peas; simmer, covered, stirring 2 or 3 times, until just tender, 3-4 minutes. Remove from heat; stir in 1 tablespoon chives, parsley, dill and chopped chervil (or parsley). Transfer the soup to a blender and blend until smooth. (Use caution when pureeing hot liquids.)

Return the soup to the pan. Add milk and bring to just below a simmer, stirring, over medium heat. Stir in lemon juice, salt, and pepper. Ladle into soup bowls. Lastly, garnish each serving with a dollop of yogurt, a sprinkling of the remaining chopped chives and a sprig of chervil (or parsley).
Rheumatoid Arthritis Recipe #3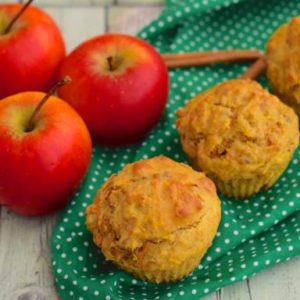 Ginger Apple Muffins
Ingredients
2

cups

all-purpose flour

1

cup

sugar or sugar substitute granules

1

Tbsp

baking powder

1/2

tsp

salt

1

tsp

ground cinnamon

1

tsp

ground ginger

3/4

cup

unsweetened almond milk

1

cup

apple

shredded

1/2

cup

ripe banana

mashed

1

Tbsp

apple cider vinegar

1/2

cup

crystallized ginger

finely chopped
Instructions
Preheat oven to 400°F. Lightly grease a 12 cup muffin pan or use paper liners.

In a medium-sized bowl, whisk together first six ingredients.

Separately, in a large bowl, combine milk and next four ingredients. Stir in flour mixture just until incorporated. Fill each muffin cup 2/3 full.

Bake at 400°F for 15 to 20 minutes or until a toothpick inserted into the center comes out clean.
RA Recipe #4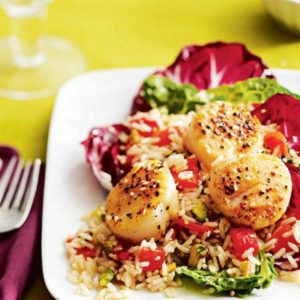 Sesame Scallops With Pistachio Brown Rice
Ingredients
3/4

cup

brown rice

1

Tbsp

apple cider vinegar

2

tsp

honey

2

tsp

soy

1

tsp

ginger

1 1/2

tsp

dark sesame oil

1

roasted red pepper

chopped

1/3

cup

pistachios

chopped

2

tsp

sesame seeds

12

large sea scallops

salt and pepper

to taste

1

Tbsp

vegetable oil

2

cups

romain lettuce or radicchio

packed
Instructions
Cook 3/4 cup brown rice according to package directions, omitting salt. Whisk 1 tbsp apple cider vinegar with 2 tsp honey, 2 tsp soy, 1tsp ginger and 1 1/2 tsp dark sesame oil in a large bowl. When rice is cooked, let cool about 5 min. Stir rice along with 1 chopped roasted red pepper into vinegar mixture until combined. Stir in 1/3 cup chopped pistachios.

Toast 2 tsp sesame seeds in a large nonstick frying pan over medium-low. Transfer to a bowl. Pat 12 large sea scallops dry with paper towels, then lightly season with salt and pepper. Heat same non-stick frying pan over medium-high. Add 1 tbsp vegetable oil, then scallops. Cook until dark golden, about 2 min per side.

Arrange baby romaine or radicchio on 4 plates. Top with rice and scallops, then lastly, sprinkle with toasted sesame seeds.
Rheumatoid Arthritis Recipe #5
Spice Encrusted Pork
Ingredients
1/3

cup

vegetable oil

1

Tbsp

cumin seeds

4

Tbsp

fresh garlic (about 4-6 cloves)

minced

1

large onion

finely chopped

4

lbs

boneless pork loin or shoulder picnic roast

2

Tbsp

fresh ginger

finely grated

2

large tomatoes

finely chopped

1

tsp

turmeric

3/4 to 1

tsp

cayenne

4 1/2

tsp

garam masala

2

Tbsp

brown sugar

salt

to taste
Instructions
First, heat oil in a large wide saucepan or pasta pot set over medium heat, 1 min.

Next, add cumin seeds. Let them sizzle 1 min.

Add garlic and onion. Stir frequently.

Reduce heat to medium-low. Continue cooking, stirring often, until onion is light brown, which may take 12 to 15 min.

Meanwhile, trim any excess fat from loin, then cut pork into 2-in. (5-cm) pieces.

When onions are light brown, add ginger. Saute for 2 min.

Stir in tomatoes, turmeric, cayenne, garam masala and 1 tsp (5 mL) salt. Increase heat to medium.

Cover and simmer to develop flavor, stirring occasionally, 5 min.

Add pork. Stir until evenly coated. Cover and reduce heat to medium-low.

Let simmer, stirring every 15 min until pork is as tender as you like, though it should cook for approx. 1 hour and 45 minutes.

Stir in 1 tbsp (15 mL) brown sugar. Taste and add remaining salt and sugar, if you wish.

Finally, serve with sauteed leafy greens (such as spinach or kale) and whole grain rolls.

If you don't serve it immediately, the pork will keep well, covered and refrigerated, up to 3 days, or in the freezer for 1 month.
RA Recipe #6
Pan-Seared Fish with Saffron and Pine Nut Cauliflower
Ingredients
4

mild, white fish fillets such as cod

1/2

tsp

garlic

salt and pepper

to taste

2

oz

golden raisins

1/2

tsp

saffron threads

1

small head of cauliflower

broken into florets

olive oil

1

large red onion

finely sliced

2

garlic cloves

finely sliced

2

Tbsp

pine nuts

toasted

1

oz

butter

2

Tbsp

red wine vinegar

1

handful

parsley leaves

roughly chopped
Instructions
Cover the raisins in warm water and leave to soak until they plump up; also cover the saffron threads with 4 tbsp boiling water.

Bring a pan of salted water to the boil and add the cauliflower. Return to the boil for two minutes, then drain into a colander and leave to steam-dry.

Heat up a couple of splashes of oil in a large pan. Gently fry the onion and garlic with a pinch of salt until the onion becomes soft and sweet, about 10 minutes.

Drain the raisins, then stir them into the pan along with the cauliflower, saffron water, pine nuts, butter and vinegar. Stir well and check the seasoning.

While the mixture is cooking, after approx. 10 minutes, prepare the fish. Next, add a few splashes of oil to another pan.

Season the fish fillets with garlic, salt and pepper, sear and then pan fry until done.

Lastly, top fish and cauliflower with chopped parsley before serving.
To make these Rheumatoid Arthritis recipes even more effective, they should be incorporated into a healthy lifestyle. This should include exercise and diet management which have been approved and are monitored by your doctor.
What Healthy Eating Recipes Do You Have to Share?
Tell us in the comments!
What topics related to healthy eating for RA would you like to see us explore?
Email us at info@painresource.com with your ideas!
Are you on Facebook?