A photo is not only worth a thousand words but can heal.
By Lisa Davis
We all have important dates in our lives. Birthdays. Anniversaries. Graduations. But for the millions of people diagnosed with cancer each year, there is another date that is ingrained in the memory: the day you find out you have cancer.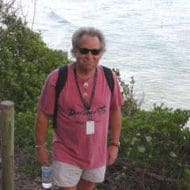 For Kent E. St. John, this date was March 25, 2010, when the 54-year-old senior travel editor and part owner of GoNOMAD.com was diagnosed with throat cancer. That day will forever remind me of just how important it is to treat yourself with respect and love, says St. John, who lives in Cottekill, N.Y., with this wife Lisa.
Because the location of St. John's cancer was in a spot where surgery wasn't an option (the throat is hard to treat because so many functions are centered there–for example, breathing, speaking, and swallowing), St. John opted for 33 radiation treatments and two chemo treatments over six and a half weeks at Memorial Sloan-Kettering Cancer Center's Campus in Sleepy Hollow, N.Y. A daunting regimen, to say the least. The hardest part of my treatment was to not count the days remaining but the ones passed, says St. John.
To help him, St. John mastered the power of visualization, a form of self-hypnosis that people can use to foster healing. Visualization can help someone redirect their focus away from their physical pain, and it's a great technique for coping with psychological distress such as anxiety, depression and tension, says Angie LeVan, a Philadelphia-based resilience coach, speaker, and writer.
During his daily radiation treatments, instead of reading a magazine or watching TV, St. John looked at photos taken from his nearly 15 years of worldwide travels.
Using pictures was a way to place my mind elsewhere, to take the huge radiation machine and its noise out of the process, says St. John. The pictures also helped him cope with his pain. At times swallowing was sheer agony; even a sip of water could feel like drinking pins and needles, he says. I turned the radiation sessions into a quiet, dark place where through my photos I could send my mind to places where I felt safe, happy, and, most important, alive.
One photo that was especially helpful during his treatments is pictured with this story: sunflowers taken at his sister and brother in-law's house in Canaan, Maine, which reminded St. John of family and friends and their love and support. Two other photos that St. John used for visualization healing included elephants photographed on a safari in Kenya, an image that he said showed how majestic the world is, and a fruit-stand shot in France's food capital, Lyon, which inspired him to embrace a healthier lifestyle after his treatments.
I heard a quote by painter Pierre Auguste Renoir, who was racked by rheumatism in his last years, St. John says. The pain passes, but the beauty remains.
To see more of the world's beauty through the lenses of St. John's camera, visit his blog at http://blogs.gonomad.com/beourguest/.