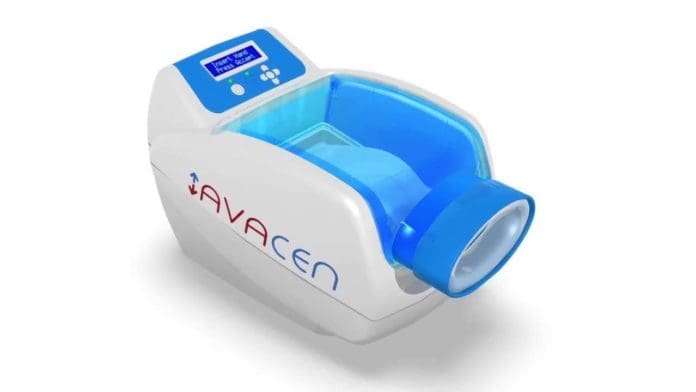 This sponsored post was written in collaboration with Avacen and the Chronic Illness Network.
When you live with a condition that causes chronic pain, it can be frustrating trying to find ways to feel better. Medications can be a great part of your treatment program, but simply taking more medications when you're in pain isn't always the best answer, especially when they come with a myriad of side effects.
Often, effective chronic pain relief involves a combination of things, including: medications, exercise, healthy eating, good sleeping habits and other forms of therapy. One other form of therapy that we're going to cover in this post is heat therapy.
Avacen is a heat therapy device that was designed to provide drug-free pain relief. The name itself is an acronym for Advanced VAscular Circulation ENhancement, and the machine does indeed work to increase your inner core temperature, transferring the heat throughout your body via your circulatory system.
I tested Avacen for 30 days in hopes that it would help to alleviate some of my constant back pain, which is mostly concentrated in my left shoulder blade. The device is FDA-cleared, and research indicates that it works to temporarily alleviate the following:
minor muscle and joint pain and stiffness
arthritis pain
muscle spasms
pain from minor strains and sprains
muscular relaxation
My Experience with Avacen
I received the device in the mail, and it fit comfortably on a desk or table. The instructions indicated that I should use the device on my right hand in the morning, and left hand at sunset, so that's what I did. I will admit, there were a few days I missed the night treatment, but for the most part I stuck with this schedule.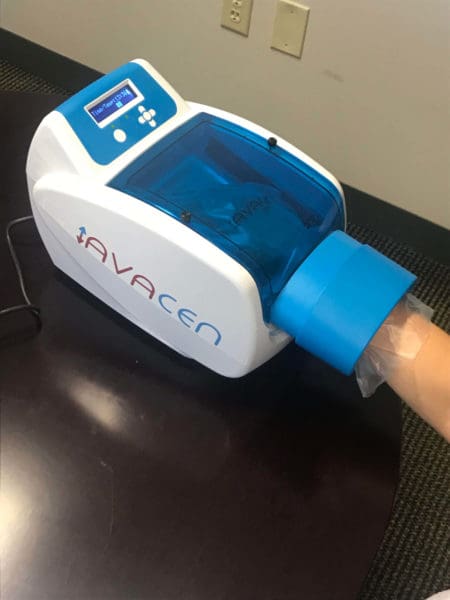 So, what happened the first time I used it? I plugged my Avacen into the wall and waited for it to heat up. The device comes with plastic sanitary mittens, and I placed one over my hand before putting it into the device. Once the Avacen was warmed up, I placed my hand into armhole and clicked the "check" button to begin treatment. The device then vacuum-sealed around my arm, which felt a little scary the first time, but in reality it's less constricting than getting your blood pressure checked. My palm rested on the metal plate inside, which was warm but not hot, and I waited the full 15 minutes of treatment. I was glad to have my other hand free while I waited so I could read a book or drink coffee. In all honesty, it was actually nice to have an excuse to take a 15-minute pause before starting the day.
After treatment, I felt normal. Some people report experiencing fatigue, spots or redness on their skin, or even redness and puffiness in their hand. Some people even initially feel worse, which may be due to the body releasing toxins as a result of treatment. My hand was slightly puffy, and I had to wait a few minutes to put my ring on after treatment, but that was the extent of my symptoms.