Stop stressors with open dialogue
Why don't we like to talk about our life with chronic pain? Why is asking for holiday help with chronic pain such a struggle for us? Because unless you live with chronic pain, you just don't get it. Many of us feel as if our words will be overlooked or ignored. No matter how compassionate and caring our family and friends may be, we often find it difficult to explain. 
We need to rethink and unlearn that approach. This holiday season, set goals to:
Recognize that talking about your pain can be valuable to us and to our relationships 

Ask for support before the tensions, expectations and pressures begin

Remember that chronic pain is complex with biological, psychological and emotional factors to consider.
"Understanding and managing the thoughts, emotions and behaviors that accompany the discomfort can help you cope more effectively with your pain," according to the American Psychological Association. It can even reduce the intensity of your pain.
For those of us who are chronically ill, we can easily start conversations about our pain with family members or friends. Others of us may choose to discuss their chronic pain conditions with counselors, psychologists or psychiatrists first. No matter who you prefer to chat with, make a plan for the holidays and implement it. Make sure near the top of that plan is accepting that asking for holiday help with chronic pain is OK. 
Plan a pain-free holiday 
If you've never been to talk therapy before, it usually involves identifying what's problematic in your life and then working to figure out solutions. This strategy doesn't require an expert in mental health. Have your own therapy sessions via conversations with your family and friends.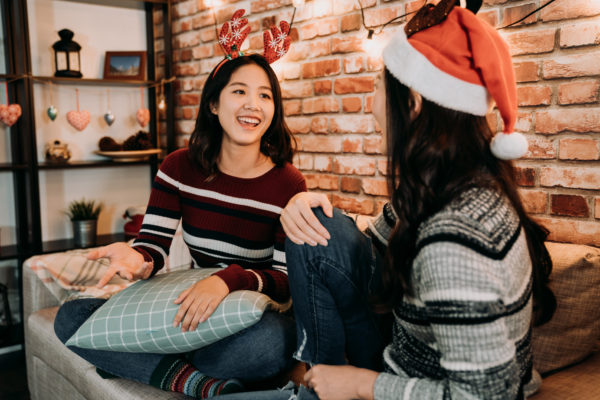 Consider holiday season planning concerns such as: 
What situations could be problematic for your chronic pain?

Are you being asked to host visitors?

If so, does this mean you need to do a deep cleaning of the house before they arrive?

Do household chores such as vacuuming or mopping trigger pain?

Are you being asked to prepare a big family meal?

Will you need to travel? 

Might it be more convenient for you to stay home and have others visit you?

Does your travel involve long car rides?
Write down a list of your holiday obligations. Use problem-solving techniques to determine what can be done to make tasks easier: