As the "new spinning" of the fitness community, rowing is experiencing quite the resurrection. It's been the talk of the fitness world for several years now, but 2018 has seen tremendous growth in the demand for classes and even boutique fitness centers. As the heir to the fitness trend throne, rowing has its work cut out for it. Luckily for those taking classes, that work means fitness centers around the country are offering classes for this low-impact total body workout. 
Get toned from head to toe
This in-studio experience calls for rowers to adhere to the same form and motions as if they were on the water. It also touts the same results: up to 84% of muscles targeted. "Rowing is a technical sport, and we want to make sure everyone is rowing correctly," according to Bradford Stevens, owner of Tampa boutique fitness studio VKNG Row.
Get ready: it's an experience
The authenticity of the atmosphere is imperative to delivering a successful class. Stevens' use of "dark lights, loud music, and rowing" sets the stage – or figuratively the water – for such an experience. Clare Varga, director of active sport for trend forecasting company WSGN, indicates that the experience of rowing is not only a reason for the workout's current popularity. It's also a compelling reason attendees will keep coming back. "There's been a huge upgrade to rowing machines," she said. "The focus has been on making the experience more real with water tanks that simulate conditions and interactive or VR versions that simulate race conditions and take the monotony out of rowing. Also there's been so much focus on low impact training (LIT), too – this is set to revolutionize workouts going forward."
Row, row, row the past away
Varga emphasizes the crucial role technology plays in this fitness experience. Today's rowing experience is more than simply dusting off the old rowing machines of the past. High-tech screens enhance today's machines that can allow for access to online fitness classes or provide an outlet for real-time feedback on form, technique or speed.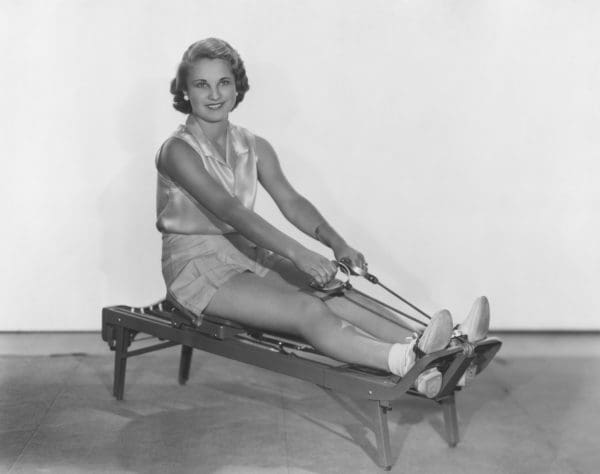 And there's more to do than row, row, row your time away in like you may do on a treadmill. "Many of the classes mix up rowing intervals with strength and ab conditioning for a high-intensity, low-interval punch like cardio and core class at New York's CityRow. At EngineRM in New York, the focus is on rowing in unison. LA's iRow studio is all about hardcore rowing in group classes or training on the water in Marina Del Rey."
Let's talk benefits
Working out doesn't have to mean mind-numbing exercises. You're more likely to stick with a new routine if you enjoy it and if you see – and feel – the benefits.
If you're looking to take charge of your health or to rev up your existing workout, rowing may be the total body approach you need.
It can help you lose weight
With a vigorous 30-minute stationary rowing session, a person weighing 125 pounds can burn 255 calories and a person weighing 185 pounds can burn 377 calories. You can amp up your performance with longer rowing sessions, incorporating intervals of high intensity rowing into your routine and using high resistance. To lose 1 – 2 pounds per week, aim to burn 500 – 1000 calories per day.

It can boost your heart health
Rowing requires stamina and endurance that puts your heart to work. It increases heart rate and oxygen consumption, and it can lead to improved cardiovascular function. When you keep your heart active and healthy, you lower your risk for heart disease, your blood pressure and your cholesterol levels.
It can provide a low-impact workout
Low-impact means that one foot is always in contact with the ground. "A rower is easier on your joints because there's no impact, but you can burn so many calories," according to Gretchen Raddatz, a rowing coach at New York City's Row House. This level of workout may be ideal for those who:
have lower body injuries

have balance issues

are looking to reduce wear and tear to their joints

new to working out

are overweight or obese

are pregnant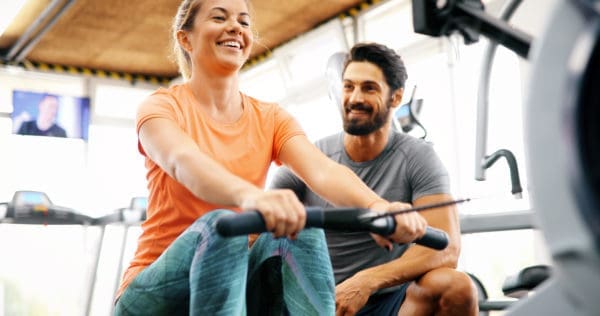 You can engage all of your muscles with low-impact workouts like rowing without sacrificing your joint health. From your abs to your triceps to your glutes, your entire body will be activated with each stroke.
When planning your workout schedule, remember that the CDC recommends adults get:
2 hours and 30 minutes of moderate-intensity aerobic activity every week and muscle-strengthening activities on 2 or more days a week for all major muscle groups; or

1 hour and 15 minutes of vigorous-intensity aerobic activity every week and muscle-strengthening activities on 2 or more days a week for all major muscle groups; or

An equivalent mix of moderate and vigorous aerobic activity and muscle-strengthening activities on 2 or more days a week for all major muscle groups.
Click here for recommendations for children from 6 to 17 years old, here for women who are pregnant or postpartum and here for adults over the age of 65.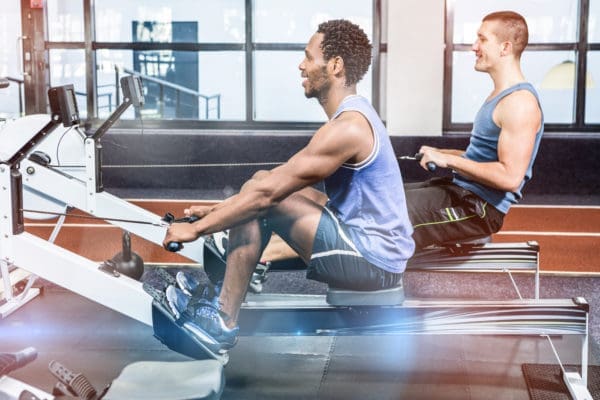 Ready to row, row, row your poor exercise habits away? Click here for your 4-step workout plan!
Not ready to commit to a full rowing routine? Integrate a few minutes of it each time you're at the gym and slowly work your way to 30 – 60 minute sessions.  
Have you incorporated rowing into your workout?
We want to hear about your experience in the comments below!
Are you on Facebook?
Join our online community by clicking here.
Have a topic related to fitness and wellness you'd like to see us research and discuss?
Let us know by emailing us at info@painresource.com.