Chronic pelvic pain syndrome is a concern for many people throughout the United States and beyond. This condition can be debilitating when left untreated—but knowing where and how to get treatment isn't always easy. Here, we walk you through what living with and treating chronic pelvic pain syndrome looks like (including the differences between the genders) so that you are one step closer to pain relief.
What Is Chronic Pelvic Pain Syndrome?
Medical researchers report that pelvic pain is a widespread concern that can cause major disruptions to somebody's ability to function as they normally would. Pelvic pain can be felt beneath the belly button, between the hips, and even in the lower back. When this pain is chronic, it means that it is long-lasting and does not respond with significant improvement over time.
One of the main criterias to be diagnosed with chronic pelvic pain syndrome is having pelvic pain that lasts for at least six months. The pain is usually constant, though the type of pain could change depending on several different factors, including physical activity, gender, and whether or not the person is utilizing treatment interventions.
Studies show that there is a high correlation between chronic pelvic pain syndrome and other pain-causing conditions, including:
These conditions already cause the body to be hypersensitive to pain in addition to spreading inflammation throughout the joints. In turn, the area around the pelvis can become inflamed or irritated, causing pelvic discomfort and further pain.
Chronic pelvic pain is primarily known to impact women, but this condition can also affect men. That said, the symptoms are slightly different based on the biological map of the human body.
Chronic Pelvic Pain Syndrome Symptoms
Everyone's experience with chronic pelvic pain syndrome is unique. The common denominator here is, of course, pelvic pain that lasts a long time. However, pelvic pain does look different for men and women. Let's look at the common symptoms split by biological sex.
Chronic pelvic pain in women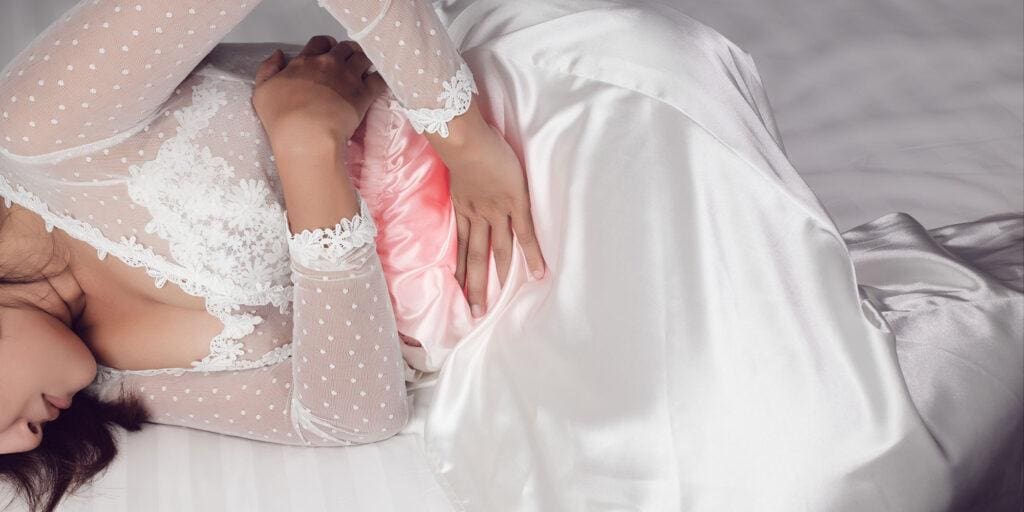 The symptoms of chronic pelvic pain in women sometimes mimic those of a urinary tract infection or even of menstrual cramping. However, one of the defining characteristics of this condition for women is that it is not related to events such as pregnancy, menstruation, or an injury to the pelvic region. Another distinction with chronic pelvic pain syndrome is that this pain does not respond to typical treatment and it persists for at least half a year.
Pelvic pain in women could range from sharp, shooting pain to dull, aching, and throbbing. Additional symptoms for women include:
Pain with sexual intercourse
Gastrointestinal distress
Discomfort with sitting
Men with chronic pelvic pain
When men have continuous pain in the lower hip area, it could be chronic pelvic pain syndrome. However, other conditions, such as chronic bacterial prostatitis and prostate cancer, need to be ruled out first. The cause behind the pelvic pain will greatly influence the direction of treatment. For example, prostatitis that is caused by an infection usually needs to be treated with antibiotics. Prostatitis that is not a result of infection might require other forms of treatment, such as physical therapy.
Just as with anyone who experiences concerns with this condition, men often experience pain that radiates through their:
Front of the hips
Tops of the legs
Buttocks
Another common symptom is pain throughout the prostate region. Again, it's important to rule out infection or something more serious if you are experiencing this type of pain. People who have prostates should have this organ examined annually whenever they have pain or starting around the age of 50.
Because the pelvis is affected by many movements, including walking, stepping, or bending, chronic pelvic pain syndrome can make it challenging for people to do daily activities. This is why it's so important for men and women to find the right treatment for this condition. Without the proper intervention, the pain could continue to worsen and decrease your happiness, ability to do the things you enjoy, and lower your overall quality of life.
Treatment Options for Pelvic Pain
Treatment for chronic pelvic pain syndrome targets different components of the pelvic region, including the soft tissues, muscles, and pelvic joints, as all of these areas can cause further pain. While the effectiveness of certain treatment options are still being researched, most times, people can find some relief (or at least prevent further pain) by doing pelvic floor therapy.
In this type of therapy, you work to heal the pelvic floor by learning how to activate, release, and strengthen these hard-to-find muscles. This specialized form of physical therapy is proven to help many people regain functionality of their urinary tract as well as decrease pain related to the pelvic region.
Other types of treatment could treat the symptoms individually. These approaches might look like:
The goal is to find a treatment method that works best for your individual needs. Consult with your doctor first about your symptoms of chronic pelvic pain syndrome so that you can get started on the right path toward healing.
Find Others Who Understand
If you struggle with chronic pelvic pain syndrome or another chronic condition, you might feel as though nobody understands what you are going through. But the truth of the matter is that there are other people out there who are also learning to cope with conditions like chronic pelvic pain syndrome. It can be helpful to make connections with others who do understand so that you do not feel as alone in the fight against pain.
Join the Pain Resource Community for more insight into chronic pelvic pain syndrome and other chronic conditions from people who actually understand. With the right support and community behind you, going through life with medical complications can be a little less painful.
What are your thoughts on this article?
Let us know in the comments below!
What topics should we cover next?
Email us your ideas at info@painresource.com!
Did you know we have different groups for different conditions?