Ditch potato chips. If you love a crunchy, salty chip as a snack but want a healthy alternative, then give kale chips a try. They are easy to make and filled with fiber and antioxidants, and the nutrients in kale may reduce the risk of colon cancer.
In addition, eating a little bit of kale gives you the recommended daily value of vitamins A, C and K. Here's how to make your own kale chips: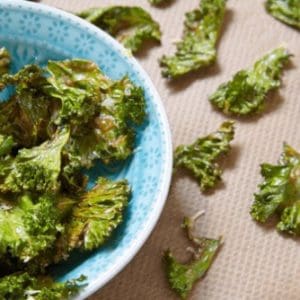 Kale Chips Recipe
Elevate your well-being with our Kale Chips — a simple and wholesome recipe featuring bite-sized kale leaves tossed in heart-healthy olive oil and a pinch of salt. Savor the crispiness of these nutrient-packed delights, each chip delivering a burst of flavor and a host of health benefits. Packed with vitamins, minerals, and antioxidants from kale, and boasting the richness of olive oil, this guilt-free snack is a crunchy celebration of both taste and nutrition. Discover the joy of snacking smartly with our Kale Chips, a delightful treat that nourishes your body with every satisfying crunch.
Ingredients
1

cup

bite-sized kale leaves

1

Tbsp

olive oil

1/2

tsp

salt
Instructions
Mix the ingredients in a bowl.

Place kale pieces on a parchment-lined baking sheet.

Bake at 350° F (175° C) for 10–15 minutes