It's that time of year again when your little ghosts and goblins are preparing their scary costumes for trick or treating fun!
However, halloween sweets from their haul are no substitute for dinner even though the little ones may think differently.
To help you in your quest to make sure more than just candy is consumed on Halloween, we have composed 4 spooky dinner ideas for the fun day this year.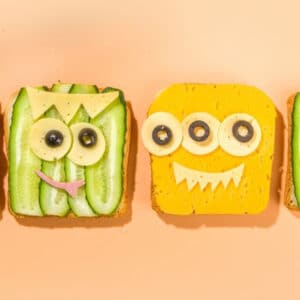 Spooky Halloween Toast
"Spooky Halloween Toast" is a creative and festive recipe that transforms ordinary toast into a delightful and themed treat. This Halloween-inspired dish involves toasting bread slices and then decorating them with various fun and spooky toppings. Common toppings include cream cheese or peanut butter for a spreadable base, with additional decorations such as edible eyes, fruit slices, or Halloween-themed sprinkles to create playful and eerie designs. The result is a visually appealing and whimsical toast that adds a touch of Halloween spirit to breakfast or snack time. The recipe offers endless possibilities for customization, making it a fun and engaging activity for individuals or families during the Halloween season.
Ingredients
Your choice of bread

Cucumbers

Cheese

Ham

Olives

Tomatoes
Instructions
Toast your bread and then lay out an array of topping choices for your kids or friends to decorate the toast with. This is a great healthy breakfast or lunch option with a spooky twist.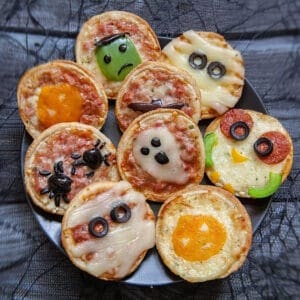 Spooky Mini Pizzas
"Spooky Mini Pizzas" is a playful and Halloween-themed twist on traditional pizza. This creative recipe involves making mini pizzas with a spooky and festive touch. The pizza crusts are typically shaped like ghosts, pumpkins, or other Halloween symbols, and they are topped with a variety of ingredients to create facial features or other spooky designs. Common toppings include tomato sauce, cheese, olives, and other vegetables. The result is a visually appealing and whimsical dish that adds a fun element to Halloween celebrations, making it an enjoyable and engaging activity for both kids and adults. Spooky Mini Pizzas are not only delicious but also serve as a festive addition to Halloween parties or family gatherings.
Ingredients
Cheese

Pizza dough

frozen or homemade

Tomato sauce

Pepperoni

Olives

Green Peppers

Orange peppers
Instructions
Lay out your pizza dough and roll it into mini circles, about the size of a bagel, and spread tomato sauce over the pizza dough. Then allow your kids or friends to decorate their own spooky mini pizza. Make a competition out of it and see who can make the funniest or scariest pizza!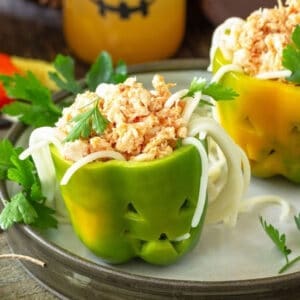 Spooky Stuffed Pepper
"Spooky Stuffed Pepper" is a Halloween-inspired recipe that transforms the classic stuffed pepper into a festive and whimsical dish. Bell peppers are carved to resemble spooky jack-o'-lantern faces, adding a playful and creative touch to the presentation. The filling typically includes a savory mixture of rice, vegetables, and protein, creating a delicious and satisfying meal. Once baked, these spooky stuffed peppers become a centerpiece for Halloween gatherings, offering a combination of visual appeal and flavorful ingredients. This recipe brings a festive twist to a familiar dish, making it an entertaining and thematic addition to Halloween celebrations.
Ingredients
Red or green pepper

Ground beef

ground chicken or tofu

Meat seasoning

Spaghetti noodles
Instructions
For this fun halloween dinner idea you simply follow your favorite stuffed pepper recipe but with a halloween twist. You can place the spaghetti noodles throughout the pepper or on the side. But what will really make this pepper look ready for halloween is by carving out a face on the front just like you would a pumpkin.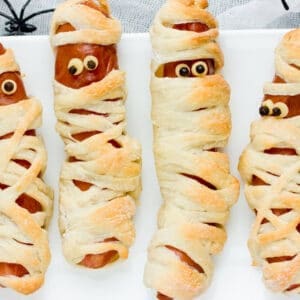 Spooky mummies in a blanket
"Spooky Mummies in a Blanket" is a creative and festive recipe that transforms classic pigs in a blanket into a Halloween-themed delight. Mini sausages are wrapped in thin strips of dough to resemble mummies, and the result is a playful and spooky appetizer. The mummy effect is achieved by leaving gaps in the dough for the sausages to peek through, creating the appearance of wrapped bandages. Once baked, these mummy-shaped treats are perfect for Halloween parties or gatherings, adding a touch of whimsy and fun to the table. Serve with your favorite dipping sauce for a delightful and entertaining snack that captures the spirit of the season.
Ingredients
Hot dogs

Biscuit dough

Olives
Instructions
Instead of following your traditional pigs in a blanket recipe, this time you wrap your hot dog up in a mummy costume. You can do this by laying your dough on your counter and slicing it up into thin lines. Then you just dress your dog. Don't forget to save some pieces of the dough for its eyes and then add olive slices to finish it off!
Notes
Total Estimated Cost: Approximately $6 to $11 Prepping sausages and dough: 15-20 minutes Baking mummies: 10-15 minutes Total Estimated Prep and Cook Time: Approximately 25-35 minutes Estimated Calories: around 40 to 60 calories
---
Family Health:
Most Children's Calories Now Sourced from Ultra-Processed Junk Foods
Healthy Substitutions at 5 of Your Favorite Restaurants
Eating French fries and other fried foods linked to higher risk of anxiety and depression