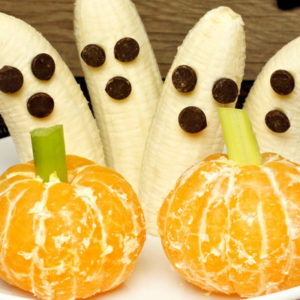 Recipe: Tangerine Pumpkins and Banana Ghosts
The recipe suggests a fun and simple " Tangerine Pumpkins and Banana Ghosts" Using four bananas, each banana is adorned with chocolate chips—either regular or mini-sized—for added sweetness and indulgence. Additionally, four tangerines are included in the snack, providing a burst of citrusy freshness. The dish is completed with the inclusion of one stalk of celery, offering a crunchy and savory contrast. This easy-to-assemble snack combines the natural sweetness of bananas, the richness of chocolate, the zesty flavor of tangerines, and the crisp texture of celery for a delightful and well-balanced treat.
Ingredients
4

bananas

24

chocolate chips, regular sized and/or mini

4

tangerines

1

stalk celery
Instructions
Peel bananas and cut them in half. Place the cut side down so that the halves stand up.

Use small chocolate chips to make the ghost eyes and the large chocolate chips to make the ghost mouths.

Cut celery lengthwise into thirds, then across into half-inch pieces. Insert the celery pieces into the tops of peeled tangerines so that they look like pumpkins.