Let's start off by admitting that as the dog days approach and some places in the U.S. are already experiencing triple-digit temps stepping into a sauna may not be your idea of good time.
But there might be good reason to consider a specific kind of sauna if you have chronic pain, according to Sunlighten, an Overland, Kan., company that produces a line of at-home and commercial infrared saunas that it claims detoxify the body, aid in weight loss, improve heart health and ease some common types of pain.
What's the difference between the blisteringly hot sauna you might know from, say, your health club, and the infrared variety?
"You know how a microwave can heat the coffee in your cup but not the cup or the surrounding air?" says Brooke Taylor, marketing manager for Sunlighten. "It's similar to that process, but without radiation. Infrared light is the invisible part of the sun's spectrum. It heats our bodies from the inside out without making the room as hot as it would be in a traditional dry or steam sauna. This allows us to sit longer and more comfortably. It has none of the UV rays that we have to worry about when we're in the sun."
In fact, Taylor says, infrared heat is the kind used to keep babies warm in hospital incubators.
Because it raises the body's core temperature, producing a sweat that proponents say "detoxifies at the cellular level," it is healing.
Specifically, Taylor says, two lengths of light rays, near and mid, seem most effective for pain relief and skin health.
"[While] the far rays reach deeper into our bodies to lower our blood pressure and increase our ability to relax.
According to Sunlighten, mPulse saunas, which use the company's Solocarbon heating technology, are the only ones that let users get the full range of infrared rays.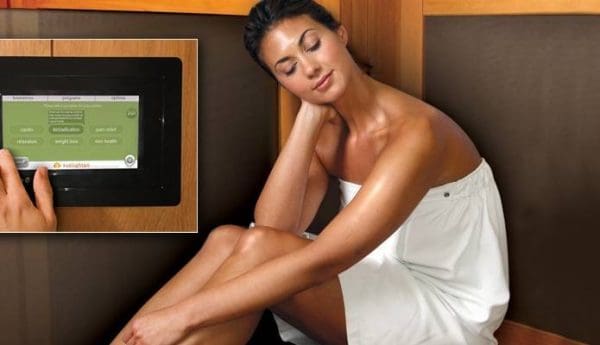 The saunas come with six preset "health programs," including one for "pain relief." At this setting, "the infrared rays increase blood flow to the muscles, delivering more concentrated oxygen, which creates more energy to heal," Taylor says. "By reducing soreness on nerve endings, our infrared heat reduces muscle spasms and helps the body heal itself naturally."
She cites a NASA study using near-infrared heat that determined that LED technology allows for deep penetration of tissue and increased cell growth,
"We offer the only saunas on the market that have [light-emitting diode]-based near-infrared heat at this proven level," she says, adding that Sunlighten's saunas may be particularly useful for fibromyalgia, rheumatoid arthritis, chronic Lyme disease, and chronic fatigue syndrome.
A 2009 review of research on the health benefits of far-infrared saunas, published in the journal Canadian Family Physician, found "fair evidence" (though from just one study) supporting the use of the sauna in treating chronic pain. And a study published in 2010 in the Canadian Journal of Diabetes found that using this type of sauna for 20 minutes three times a week helped lower blood pressure and reduce waist size.
Evidence or not, Sunlighten's saunas have developed something of a celebrity following. Cher, Sting, Uma Thurman, Jim Carrey, Jay-Z, George Foreman, Steve Young, and a number of professional and university athletic teams have one.