When a child is chronically ill, the whole family feels the pain, particularly the parents. Regardless of the condition, the stress families suffer is remarkably similar. Here, JoAnne Colucci talks about the love, worry, and sheer exhaustion and the joy Rosie has brought to her life and the lives of others. 
By Mary Beth Sammons
When JoAnne Colucci hears other parents complaining about their child's behavior, or other discipline problems, she almost can't relate. It's not that she has the perfect kids by any means, but that she has been given a totally new perspective. It's not one of her choosing but one forced on her, loud and clear, awaking her to the realities of life and death.
The Palatine, Ill., mom speaks of daily injections, intravenous tubes, the lasting side effects of chemotherapy, possible long-term secondary cancers, multiple medications, and facing the mortality of her youngest child. What she doesn't share is the anxiety she feels watching her 8-year-old daughter Rosie suffer.
I sat by her bedside alone in the MRI suite, knowing what they were looking for a brain tumor and I knew what could be coming next, Colucci recalled. But nothing could have prepared me for the wall of emotion that hit me when a team of three doctors approached me. 
I tried my best to digest the diagnosis, take it all in, wrap my head around the fact that my daughter had an inoperable brain tumor, she said. Being thrown into a situation where all I could do was sit by and watch as my precious child changed from a healthy, normal kid, to sick, thin, hair falling out, grayish in color, laying in a hospital bed, hooked to IVs with machine alarms buzzing around me I was frozen, just paralyzed. I felt like I had woken up in a bad dream, in another world. I was in shock.
Colucci's circumstance illustrates what it is like for parents whose daily lives revolve around caring for children with chronic illness.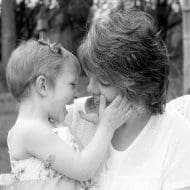 Rosie was 3 when she was diagnosed with multiple conditions: neurofibromatosis (NF), a genetic disorder that causes tumors to grow on the nerves anywhere, internally or externally. Her brain tumor is a direct result of the NF. The tumor's location, in the very center of the brain, is the reason Rosie has a second life-threatening condition: acquired obstructive hydrocephalus. She has half a dozen other chronic conditions.
In the past five years, Rosie has had 142 highly toxic intravenous chemotherapy treatments; 16 surgeries, with another one planned soon; and more than 2,000 injections. She sees 13 specialists and has missed well over 70 days of school in first and second grades alone. Rosie has endured more than most people will ever have to in a lifetime.
Colucci said it was brutal when she began giving Rosie growth hormone suppressant injections for a condition known as pituitary gigantism. Every eight hours for almost a year, she had to poke her 3-year-old with a needle full of a painful push of medication that burned going in. No one else did the shots, just JoAnne, who remembers crying after doing it for weeks: injecting Rosie as she slept, waking her up late at night, and then giving with another shot in the morning.