By Margaret Jaworski
Photo Courtesy of Jeanine Yutani: Jeanine Yutani (far right) with fellow riders Justin Baker and Laurie Miller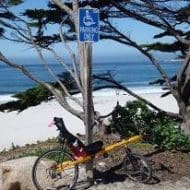 Three years running, Jeanine Yutani biked from San Francisco to Los Angeles, one of 200 participants in the annual California Coastal Classic fundraiser for the Arthritis Foundation. Tackling this grueling eight-day, 525-mile ride is a daunting endeavor for the fittest riders. For a young woman like Jeanine, who has severe rheumatoid arthritis that affects almost every joint in her body, it's downright amazing.
Jeanine's stamina, grit, and determination are no surprise to her friends and family, who have watched her take on the potentially debilitating effects of the disease and come out swinging. Then again, Jeanine has always been a fighter in every sense of the word.
In fact, when she first noticed the lingering stiffness and soreness in her hands and feet back in 2001, Jeanine, then 25, was training hard for a martial arts competition. Initially, she and the doctors she consulted blamed her persistent symptoms on her rigorous workouts three hours a day, six days a week combined with long hours in her demanding job in entertainment public relations.
For close to two years, she soldiered on, plowing through the pain that meandered around her body like a wandering vine. One week she'd have problems with her right foot. The following week, the pain moved to her left hip. A few days there and then it traveled to her right shoulder before migrating to her left foot. She saw a series of specialists.
As an athlete, when your shoulder is messed up, you go see the shoulder specialist, she said. "If your feet hurt, it's the foot doctor. One doctor diagnosed her with Morton's Neuroma, a condition that affects the nerves in the ball of the foot, and recommended surgery.
Jeanine wasn't convinced. Eventually, a foot and ankle specialist ordered a bone scan that revealed arthritis in her feet. "For months, we managed it with cortisone shots to alleviate the pain," Jeanine said. "Because all the specialists only saw a piece of the puzzle, no one connected the dots."
Then, over the course of one weekend in June 2003, everything changed. "On Thursday, my hands and wrists were so sore that I had difficulty holding anything," she said. Over the next three days the pain intensified.
By Monday, Jeanine was sitting on her living room floor in tears, desperately trying to pick up the phone to call her parents. "I was terrified because my hands were so stiff that I couldn't hold the receiver or move my fingers," she said. "My whole body hurt. Just having the weight of my arms hanging from my shoulders was horribly painful.""
Two years after the onset of her symptoms, Jeanine was diagnosed with rheumatoid arthritis. She was 27.
The lag between the onset and diagnosis is not uncommon. The symptoms of RA can be vague (fatigue, soreness), mimic other diseases (osteoarthritis, fibromyalgia), or present as a localized problem (sprain, athletic injury), delaying diagnosis.
"I was young, athletic and had no family history at the time," Jeanine said. "And for a long time I had an atypical, asymmetrical presentation." RA usually presents symmetrically, meaning that both sides of the body are affected at the same time. Jeanine's aches and pains didn't follow that path until that June weekend. Her family history emerged five years ago, when her mother was diagnosed with an aggressive form of RA.
A new normal

For the past eight years, Jeanine has been taking Embrel, a biologic DMARD. She also takes Relafen (nabumetone), an anti-inflammatory and Ultran (tramadol) for pain as needed. She credits the medication, physical therapy, and lifestyle changes, including going gluten-free, for taming her RA.
"My disease hasn't gotten worse," she said. For a progressive illness like mine, to stay stable is really great."
Keeping her disease in check hasn't stopped Jeanine from moving forward with her life. In 2005, she enrolled in graduate school at the University of Southern California, earning a master's in East Asian Studies, a graduate certificate in Gender Studies and learning to speak Mandarin Chinese. This year, she'll receive her doctorate in Politics and International Relations. Her fluency in Chinese has come in handy during her annual trips to Taipei to conduct research her for her Ph.D. thesis.
On those trips, she packs her list of essentials (see box) and her portable recumbent bike. "My knees get really angry when I walk, but I can ride my recumbent bike for miles," she said. Unlike a standard bike, the recumbent distributes her weight and keeps the pressure off her problem knees. In addition to keeping her mobile, Jeanine's unusual wheels are an ice-breaker. "Taipei has miles of bike paths, and I've met some amazing people on my rides."
She's also met amazing people in her role as a certified Pilates instructor. Although she had to give up her martial arts training, she found a new way to channel her athleticism when she took up Pilates as part of her physical therapy. "It changed my life, she said, reducing her need for pain medication and improving her mental outlook. Now an instructor at Tyler Physical Therapy, Jeanine works with people who have arthritis, back problems, and other physical limitations.
In addition to her trips to Taipei, teaching undergraduate students as part of her Ph.D. requirements, and the Pilates training, Jeanine volunteers for the Arthritis Foundation to raise awareness about the disease and the unique challenges of people living with it.
The real world
Jeanine's disease is under control, but that doesn't mean it's predictable. On bad days, the pain in her knees hobbles her, making walking difficult and climbing stairs a Herculean effort. If the pain in her hands and wrists is manageable, she uses canes to help her get around. "On those days, I feel like the Tin Man from Wizard of Oz and I don't have an oil can," she said. "All my joints feel really tight and just don't want to move."
She also has flares, episodes when her RA gets rowdy and the overwhelming fatigue turn her into Sleeping Beauty. "I've been known to sleep 20 hours at a stretch," she said. "My perception is that it's my body's way of saying, 'Stop now or you won' be able to function. "
Life with RA has other challenges. It can be really frustrating when I want to do things with friends," she said. And then there's dating. When do I tell a guy I've just met that the limp he may have noticed is RA?She's still figuring that out.
Ten years after her diagnosis, Jeanine, now 37, is ready and eager for life beyond academia in a role where she can help to effect change and improve the lives of women everywhere.
Jeanine Yutani has a beautiful smile, a generous heart, and a curiosity about the world. She's approachable, kind, and patient. She loves greyhounds, her friends, and her family. She's an intrepid traveler and an independent woman. And she has rheumatoid arthritis. It's an illness she lives with; it's not who she is or what defines her.
My Favorite Things
In her circle of friends, Jeanine is affectionately called, the gadget girl.
I'm all about finding products and tools that don't stress my hands and wrists and that make navigating life easier, she said. We asked Jeanine to share some favorites from her current collection of RA-friendly products.
Oxo Good Grips kitchen products (

www.bedbathandbeyond.com

) I particularly love the easy-close/pop open storage containers.

Hickies laces

(

www.hickies.com

)

or

(

www.brookstone.com

) A little tough to put on the first time, but saves me from having to tighten and tie my shoes.

Pilot Dr. Grip pens/pencils (

www.pilotpen.us/Brands/Dr-Grip.aspx

) The thick, soft grip really saves my hands.

Progressive International magnetic measuring cups/spoons

(

www.casa.com

)

These are so much easier to use than the cups/spoons you have to hook together with a ring.

Gravity spice mills

(

www.hsn.com/products/wolfgang-puck-bistro-elite-set-of-2-spice-mills/6887857

)

My parents got me these for Christmas and I love them! Finally, fresh ground pepper without taking a toll on my hands/wrists!
My main recumbent for touring/long distance is a Bacchetta Giro 20 TT. It definitely takes a bit of practice to ride, but it's well worth it! I also carry a Strida folding bike (I got mine about eight years ago, when they cost much less!) around campus since walking all the way across campus is a challenge.