By Margaret Jaworski
Photo Courtesy of Jeanine Yutani: Jeanine Yutani (far right) with fellow riders Justin Baker and Laurie Miller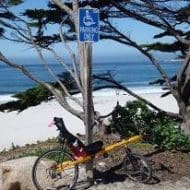 Three years running, Jeanine Yutani biked from San Francisco to Los Angeles, one of 200 participants in the annual California Coastal Classic fundraiser for the Arthritis Foundation. Tackling this grueling eight-day, 525-mile ride is a daunting endeavor for the fittest riders. For a young woman like Jeanine, who has severe rheumatoid arthritis that affects almost every joint in her body, it's downright amazing.
Jeanine's stamina, grit, and determination are no surprise to her friends and family, who have watched her take on the potentially debilitating effects of the disease and come out swinging. Then again, Jeanine has always been a fighter in every sense of the word.
In fact, when she first noticed the lingering stiffness and soreness in her hands and feet back in 2001, Jeanine, then 25, was training hard for a martial arts competition. Initially, she and the doctors she consulted blamed her persistent symptoms on her rigorous workouts three hours a day, six days a week combined with long hours in her demanding job in entertainment public relations.
For close to two years, she soldiered on, plowing through the pain that meandered around her body like a wandering vine. One week she'd have problems with her right foot. The following week, the pain moved to her left hip. A few days there and then it traveled to her right shoulder before migrating to her left foot. She saw a series of specialists.
As an athlete, when your shoulder is messed up, you go see the shoulder specialist, she said. "If your feet hurt, it's the foot doctor. One doctor diagnosed her with Morton's Neuroma, a condition that affects the nerves in the ball of the foot, and recommended surgery.
Jeanine wasn't convinced. Eventually, a foot and ankle specialist ordered a bone scan that revealed arthritis in her feet. "For months, we managed it with cortisone shots to alleviate the pain," Jeanine said. "Because all the specialists only saw a piece of the puzzle, no one connected the dots."
Then, over the course of one weekend in June 2003, everything changed. "On Thursday, my hands and wrists were so sore that I had difficulty holding anything," she said. Over the next three days the pain intensified.
By Monday, Jeanine was sitting on her living room floor in tears, desperately trying to pick up the phone to call her parents. "I was terrified because my hands were so stiff that I couldn't hold the receiver or move my fingers," she said. "My whole body hurt. Just having the weight of my arms hanging from my shoulders was horribly painful."
Two years after the onset of her symptoms, Jeanine was diagnosed with rheumatoid arthritis. She was 27.
The lag between the onset and diagnosis is not uncommon. The symptoms of RA can be vague (fatigue, soreness), mimic other diseases (osteoarthritis, fibromyalgia), or present as a localized problem (sprain, athletic injury), delaying diagnosis.