My chronic pain started as a teenager. I'm 53 now. Mostly, I suffer from back pain, rib pain, joint pain, migraines, and facial pain. Ten years ago, my doctor told me my facial pain was caused by a condition called atypical trigeminal neuralgia. But getting that diagnosis had taken approximately twenty years.
About Trigeminal Neuralgia
Trigeminal neuralgia normally affects only one side of the face, although it can affect both. There are two main types – Classic and Atypical.
Classic trigeminal neuralgia triggers lightning bolt or electric shock type pain. Shocks can happen once or repeatedly and sufferers can have pain-free remission periods. This type may be caused by the compression of the trigeminal nerve by a blood vessel. The condition can also occur in people with multiple sclerosis. Often, however, the cause is unknown.
On the other hand, the pain caused by atypical trigeminal neuralgia is normally constant, with burning, aching, throbbing, and stabbing on the side of your face. The cause is often unknown.
I occasionally receive the shocking pain associated with classic trigeminal neuralgia, but mostly my symptoms fall in line with atypical trigeminal neuralgia – that constant, aching, burning and stabbing with an unknown cause. The pain predominately affects my right side, but occasionally my left side acts up as well.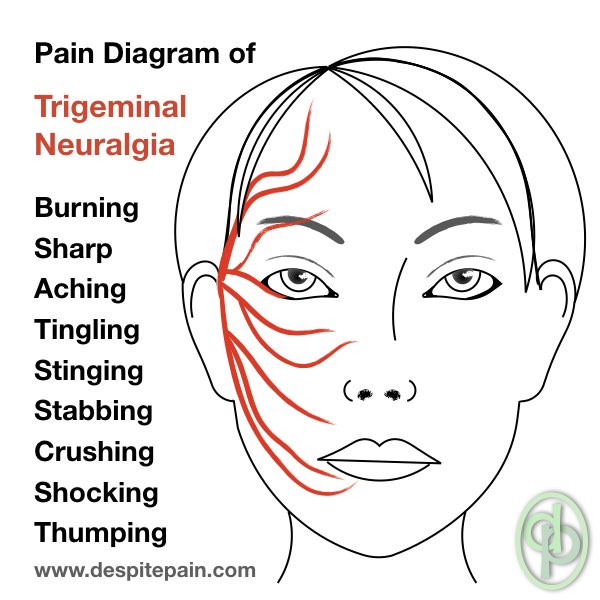 I Presumed My Pain Was Toothache
My pain first started in my early twenties. I frequently suffered from what I thought was a toothache. Sometimes I could feel an aching in the background, but often, it was excruciatingly painful, radiating through the whole right side of my face. My cheek, eye, temple, and head hurt. I had similar pain on my left side, but it wasn't as bad, nor as frequent.
Thinking it was a dental problem, I informed my dentist. I expected to need treatment or possibly extract a tooth. But neither of those applied. In fact, my dentist saw nothing wrong with any of my teeth. He said there was no reason for my pain.
I saw him regularly, and at every appointment, I complained about my toothache. Time after time, he examined my mouth thoroughly but found no dental issues. At one point, he told me, "some people just get pain like this and you need to put up with it." I was used to putting up with pain, and oddly, that suggestion didn't seem out of the ordinary to me at the time. So I tried to put up with it.
Nobody Could Tell Me Why I Was In Pain
I sought out consultations from other dentists, but they too had no answers for me. When I complained to my doctor about the pain, her first suggestion was to see a dentist. After I explained that I had already asked my dentist several times, she suggested the chronic migraine headaches I lived with were to blame.
My doctor prescribed migraine medication, which helped with my migraines, but not with the tooth and face pain. I took strong doses of painkillers for other pain issues, but this also didn't help with the pain.
As the years went on, the pain became more persistent. I often felt as if a pair of pliers were clamped on, twisting and pulling my teeth. Oftentimes, it felt as though a knife was wedged between my teeth, slicing through my cheek. I had constant pain in the right side of my face. It was gnawing, aching and burning, from my chin up to my head. My cheekbone felt as if it had been smashed with a baseball bat, so much so that I expected to see a bruise when I looked in the mirror.
The pain was debilitating. It was wearing me down. I struggled to eat some days, struggled to clean my teeth and wash my face. It affected so many aspects of my life. I felt hopeless.
Another New Dentist – and a Diagnosis
In my early forties, I scheduled a routine appointment with my dentist. On the way there, I told my husband my intention of asking the dentist to remove some of my teeth. Still, I  convinced myself I had a dental issue.
At the dental practice, I found out that my dentist had retired. A new younger dentist had taken over the practice and I told her about the excruciating pain in my teeth and face. She examined me thoroughly and took x-rays. Then, she gave me the same answer as always – 'there is not a dental problem.'
However, this time, she didn't just dismiss me. She explained that several nerves are located in the face and that those nerves were causing my pain. After twenty years of suffering, someone had finally given me an explanation.
The following day, I had an appointment to see a rheumatologist about another problem. With the new information my dentist offered me, she told me my diagnosis: trigeminal neuralgia. My general practitioner then prescribed me a specific medication which could help the pain.
Not only had I gotten a diagnosis and a prescription, but I was also given hope.