A partner's death leaves a profound void, but it can be healed
By Lisa Davis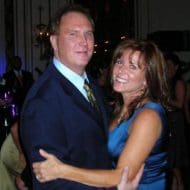 When I asked Shannon M. Regan what she experienced right after her husband Mike (fondly known as Boomer), passed away, she immediately named three emotions: shock, devastation, isolation.
After 15 years of being together, Boomer died in November 2012 from advanced liver disease. I remember releasing a squealing sob and dropping to the floor after he passed, O'Regan said. That my worst fear had indeed become reality, it was still is surreal.
The pain of losing her husband left O'Regan in bed for days and brought on feelings of extreme sadness and anxiety. But persevering, she has learned how to navigate the world as a widow. Tasks like mowing the lawn of her home in Fort Myers, Fla., a cherished pastime of Boomer's, is now a homeowners ritual she embraces.
She's also become a certified yoga instructor and has formulated a healing plan that she shares on her blog, Papillon D'Amour, where she talks about the daily struggles of living alone and of saying good-bye to the love of her life.
When people marry and take the vow, Till death do us part, do they really expect to be parted by death? Can the anger at the unfairness of a spouse's passing become all-consuming? There is no denying that O'Regan battles daily with her grief, but she also knows that wallowing in it is not the answer. She provides some insights with Pain Resource readers.
PR: What is life like now that your husband has been gone for six months?
O'Regan: I'm told I'm doing exceptionally well. Nothing like getting a report card from your therapist on how you're doing amid your loss, though it is comforting to hear. I continue to have good days, better days, bad days, sometimes even hours or minutes. Grief spurts as they're called, show up out of nowhere, anytime, anyplace, triggered by who knows what. I'm working to embrace and accept those moments when the floor feels like it drops out from under me. I'm learning the more I surrender to those moments, the more swiftly they pass and I get stronger. And with each passing day, I have hope.
PR: What are you doing specifically to help relieve your emotional pain?
O'Regan: I pray and meditate daily. I talk with trusted friends. It's very important to be able to talk with someone who isn't going to tell you how you should feel, what you should be doing, but is able to simply listen. I journal, too. It makes a world of difference in helping me get through a rough spot.
PR: Did you experience any physical pain after your husband died?
O'Regan: The morning after, I experienced complete physical paralysis while sitting on our sofa. I couldn't move my body at all. I had a strange sore throat for several days, and one night my throat seized and I couldn't swallow. I've heard that you may manifest similar physical discomfort post-mortem that the deceased experienced. In my case, my husband had tubes down his throat. Then there's the random pain in my neck, which has more spiritual connotation to it, because I wear Boomer's wedding ring around my neck. I also had frequent nausea for the first few months.