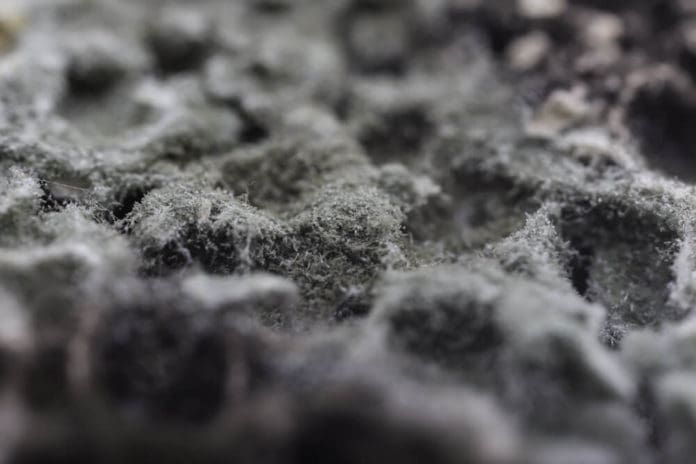 The effects of black mold could be life-threatening. Use this reference on how to spot black mold, be aware of the symptoms, and what to do next.
Black mold (stachybotrys) could be anywhere. It is most prevalent in areas that have been exposed to high moisture, particularly areas that experience high humidity throughout the year or in areas that get large amounts of rain. Black mold will also grow fastest following flooding, whether from leaky pipes or roofs or from natural disasters.
With the lingering effects of Hurricane Florence still so fresh in our minds, now is a good time to raise awareness for black mold and what it means for our health.
What Is Black Mold?
Black mold is considered toxic because it produces mycotoxins, which are dangerous to humans and pets. Mycotoxins can be found in a variety of fungi, including black mold. Sometimes, mycotoxins will grow on crops, causing extreme sickness if not caught before consumption. Crops not grown to standards, harvested early, or grown without the use of pesticides are more likely to develop strains of these toxic spores. Cooking or freezing do not kill mycotoxins, so food contamination should be taken very seriously. Food-borne mycotoxin consumption has been reported quite frequently and should be treated with as much care as the black mold form .Black mold grows on just about anything, especially porous materials. It is commonly found in office buildings and houses in which the atmosphere has been wet or moist. Oftentimes, mold cannot be seen, growing in the interior of walls, above ceilings, and under floorboards. The spores are very small and cannot be seen in the air, so people might not realize they are breathing it in. It can blow through air ducts and spread through an entire building very quickly without anyone noticing.

How To Spot Black Mold
Black mold can take up to two weeks to grow, if the ideal conditions exist. It needs a wet area to set in and multiply. Sometimes, these areas are inside the walls where the mold cannot be seen and might be caused by something as simple as a small, unnoticed water leak in the wall. While growing, mold is black and sometimes tinged with green, and due to moisture the texture can be wet and slimy. It sometimes grows in thick patches but usually appears in mottled spots.
When the mold and the hosting area dry out, the mold looks powdery and brittle and sometimes might even appear hairy. Regardless, dry mold is just as vicious because the dry spores can more easily break off into the air and spread. Whether wet or dry, toxic mold is considered dangerous and should be handled with care.
Risk Factors
Black mold can be exceptionally devastating to infants, children, the elderly, and sick people. Anyone with pre-existing conditions such as lowered immune response, alcoholism, or certain advanced-stage diseases should take extra caution in safe-proofing their homes. Black mold can hurt anyone, but people in these categories are more susceptible to the severest adverse effects, which could turn potentially life-threatening very quickly.
Symptoms and Complications
Respiratory problems
Neurological disorders
Irritation of the mucous membranes
Damage to internal organs
Tiredness
Immune system suppression
Blood clots or pulmonary hemorrhages
Brain damage or mental impairment
Neurological problems
The effects of black mold can be devastating, and in many cases, permanent. The longer the exposure to black mold, the worse the conditions usually become, and the harder they are to treat. Symptoms sometimes take a long time to become apparent and can commonly be confused with other ailments in the early stages.
Inspection and Removal Of Black Mold
There are many types of mold that can grow in buildings that are less dangerous but may appear to be the same strain. The only way to tell for sure is to have a mold expert take a sample and view it under a microscope. Because it is hard to know for certain, all mold should be treated as a potentially dangerous and life-threatening, needing immediate removal, until a thorough inspection has been conducted.