Are you thinking of trying Low-Level Laser Therapy? For more information and to see if this could be a possible therapy for you, read our interview with Dr. Ryan Whelton and how he uses low level laser therapy at his practice.
What is the ML830 laser and how does it work?
LLLT is used for soft tissue trauma injuries. This type of injury consists of damage to the deep, sensitive layers of tissue beneath the epidermis, including muscular, neural, lymphatic, and vascular tissue. The human body normally reacts to this soft tissue trauma by splinting the injury with edema, a thin or watery fluid in tissue spaces. However, excess edema causes swelling that inhibits movement of the damaged tissue. These injuries result in two types of pain. The first is actual traumatic pain from the injury itself, and the second pain is from the swelling that results. LLLT focuses first on the lymphatic system which maintains the body's fluid balance, while the laser light also helps absorb the excess edema. LLLT thus provides relief in two ways.
The ML830 Laser has FDA clearance to represent to the public that they provide temporary relief from:
Arthritis (Rheumatoid Arthritis and Osteoarthritis)
Herniated discs
Intractable pain
Lesions
Muscle spasms or stiffness
Post-surgical pain
Post-trauma acute pain
Posterior facet syndrome
Sprains and strains
Wound-healing
Acne Vulgaris
What kinds of pain does Low-Level Laser Therapy help treat?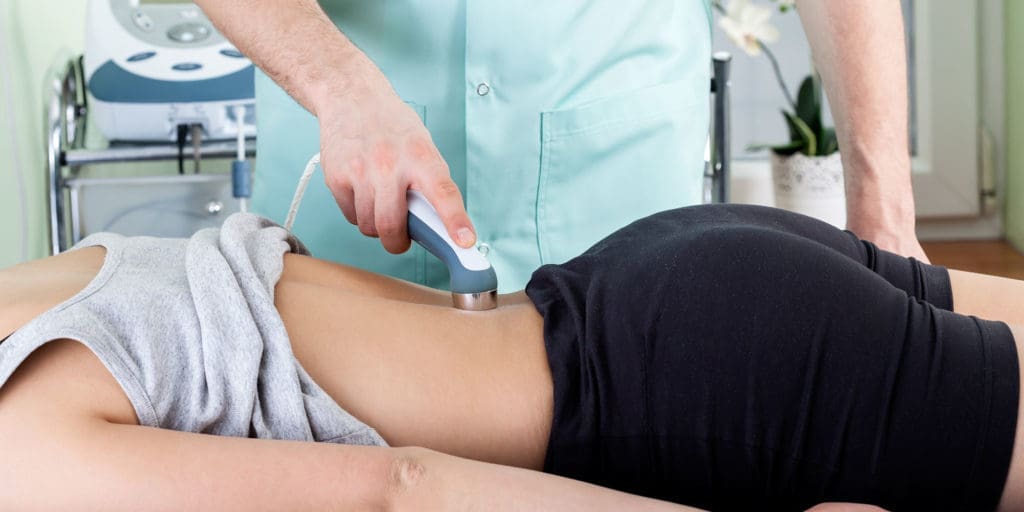 Arthritis, back pain, neck pain, migraines, TMJ, acute/chronic pain, sports injuries, diabetic/peripheral neuropathy, fibromyalgia, pain, numbness, tingling, rheumatoid arthritis, or ANY other inflammatory condition.
How many treatments does it typically take to rid the pain?
Effects of the treatment are usually felt immediately. However, the average person requires 7 treatments depending on the type and complexity of the condition.
What other treatments (if any) should a patient try in addition to Low-Level Laser Therapy?
Physical therapy, massage therapy, Acupuncture, [and/or] Ayurvedic Nutrition.
Why do you feel more patients haven't heard about this treatment?
Insurance companies do not cover laser therapy despite increasing protests from patients. Drug therapy for pain relief is a multi-billion dollar industry, and this particular laser is so effective it threatens the drug company's bottom line.
What do your patients say about its efficacy and overall worth?
99% of my patients feel instant relief after a laser session, with no side effects. However, most of the human body's healing occurs in REM sleep. The typical response I see after a treatment is disbelief. Patients cannot believe how good they feel without the use of drugs. Most patients say they would pay much more than $24-$39.50 to feel this good and heal 50-60% faster.
"yeah right, ever heard of the placebo effect before?"
What got you interested in using the laser? How long have you been using it?
I was sitting at a conference 3 years ago after a bad car accident, and I was having severe back pain and burning down my legs into my feet. I noticed a vendor promoting this device in the corner of the room. I watched other PT's go up and use it and say they felt better. In my mind I was thinking, "yeah right, ever heard of the placebo effect before?" By the second day I was about to leave the conference because I was in so much pain, so I decided to try it. I used it on my lower back and started to feel my feet again within minutes. I was sold! I was the first clinician in the Tampa, FL area to have this device.
How long have you been in practice? How long has your clinic been open?
I graduated from Northeastern University in Boston, MA with my Bachelor's, Master's and Doctorate of Physical therapy. I have been a licensed PT for over 7 years. I worked for the New England Patriots for 4 years and was fortunate enough to be part of the medical staff when we won Super Bowl XXXVIII. I also worked for the Boston Celtics and trained and rehabilitated guys for the NFL combine/draft in New Orleans, LA. I then moved to Tampa, FL and wanted to work with our nation's active duty soldiers and veterans returning from war with injuries and conditions that most PT's will never encounter in their career due to their extreme severity. I had the opportunity to teach soldiers how to walk and function in society after traumatic brain injuries, spinal cord injuries, single, double and even a triple amputee. I worked with the most burned patient alive from the war in Afghanistan and Iraq. I had the opportunity to use equipment and machines never used before in the US to facilitate recovery. I also worked with countless veterans with MS, ALS, Fibromyalgia, Chronic fatigue Syndrome, phantom limb pain. I rehabilitated veterans with total knee and hip replacement surgeries and many, many more disease pathologies. After almost three years, I decided to open my private practice, Sport and Spine Physical Therapy and Wellness Center in North Tampa, FL. The business has been thriving for 3.5 years. I wanted to treat the whole person, not just an ankle, neck or back and most importantly exercise compassion, which I believe is getting lost in the new health care paradigm, not because the clinicians don't care, but the big corporate chains are trying to maintain profit, forcing clinicians to see 4 or even 6 patients in an hour. Mistakes get made, and patients become a number and are treated according to their insurance reimbursement, not what is best for them. Since then, we have grown close to 200% every year.
What other services does your clinic offer?
Massage therapy, back pain programs, neck pain programs, sports therapy programs, personal training, stroke rehab, brain injury rehab, Spinal cord rehab, Vestibular rehab, Balance training, Fibromyalgia and chronic fatigue programs. TMJ and headache programs, golf injury/enhancement. We have the former leading rusher in the history of Boston College and NFL running back, as well as an NCAA sprinter working with young athletes in high school and younger help achieve their goals and hopefully earn college scholarships, improving their speed, strength, agility, and overall performance.
"My chiropractor is going to be furious! Those videos really help!"
Tell me more about you and your practice.
I have been very fortunate in my career to have had such great mentors and experiences. I do not believe it is my "job" to help people in pain, rather I believe it is a privilege and obligation to do WHATEVER I can to help someone. I often see patients who tell me they have "tried everything" and "I am their last hope." I love working with these patients because 9 times out of 10, I will find a way to improve their lives and reduce or rid their pain.
Unfortunately due to reimbursement slashes in health care, I commonly see patients who have left other clinics because [they couldn't afford treatment].
I know I will receive backlash from this, but people need to know this. Almost daily I sit with a new patient who tells me they have been treating with a chiropractor for years and ask me if they should continue. I ask them two questions; 1. Do they show you how to realign yourself when you come out of alignment? 2. Do they teach you exercises to keep you in alignment? If the answer is No and No ("or they told me to do abs") then you are being taken advantage of. About 5 months ago, I got tired of hearing people tell me they have spent thousands (in this economy) and feel better for 24-48 hours and then need another "adjustment." I decided to create YouTube videos to help people realign their own backs and keep it in alignment. As one patient put it to me, "My chiropractor is going to be furious! Those videos really help!" She went on to warn me I am going to put myself out of business by giving away that knowledge. I told her they are not state secrets, I have been fortunate enough to be a DPT and have been entrusted with this knowledge; it is my duty to share it. Please consult your physician before attempting any of those exercises. My YouTube channel is PTandPainRelief
My web site is ssptwc.com, You can catch me on 860AM Saturday 11-1PM "The Home Team" as the official PT and Sports injury expert for the Tampa Bay Buccaneers, Orlando Magic, Tampa Bay Storm.
Have You Tried Low-Level Laser Therapy?
Tell us your experience in the comments below
Do you have questions about Low-Level Laser Therapy?
Email us at info@painresource.com with your suggestions for future articles.
Are you on Facebook?
Join our online community by clicking here.