For many dealing with chronic pain, medication is a cornerstone. It may not totally control pain, but it helps.
We all want the medications we take to do what they're supposed to do. And they may not work as well if they're past their use-by date. That's why we were intrigued to see an innovative concept called Self-Expiring, from husband-and-wife team Gautam Goel, Ph.D., and Kanupriya Goel (he's a computational biologist, she's a designer).
The Self-Expiring system makes explicitly clear when the drug is no longer good, with a big "X" and repeated text covering the package to indicate that a patient shouldn't take the product. Self-Expiring won a 2012 Red Dot Design award.
According to the Food and Drug Administration, expired drugs can be less effective because their chemical composition may change. If you're not sure when a medication is no longer good, look for an expiration or a discard date on the packaging.
The Goels, who live outside of Boston, decided to address the problem of the dangerous use of expired medicines after they helped their grandparents sort through their medications.
"In their frail state, with limited dexterity and [vision,] [our grandparents] found it extremely challenging to read the expiration information printed in a five-point font on the medicinal strips," Kanupriya said. "We saw an opportunity where a well-designed solution could have an enabling impact for a large population faced with challenges similar to theirs."
The couple say that when applied themselves to the challenge, they "quickly realized that the problems were not simply age-specific," she said. The problem was even bigger outside developed countries. "We were concerned by how little an average person understood about how quickly a medicine becomes dangerous for consumption" once expired, she said, adding that the challenge of simply bringing awareness to countries like India was "formidable."
In India, people may purchase just a few pills at a time, so the expiration information on the box or package may not be available, or the expiration date may have worn off the package or been lost by the time someone buys the drug.
"We were motivated to design a solution that would be effective and not dependent on literacy, or a user's ability to find the expiration date on the medication packaging," Kanupriya said.
"We wanted the information to be retained and conveyed in universally accepted symbols/signs, such as the danger sign or traffic lights, which impart the same message across cultures, she said. Equally importantly, we wanted the solution to be tamper-proof; that would prevent illegal sale of expired medications."
The team would like to see the Self-Expiring design adopted by big pharmaceutical companies, but it's still a prototype that needs to be tested more.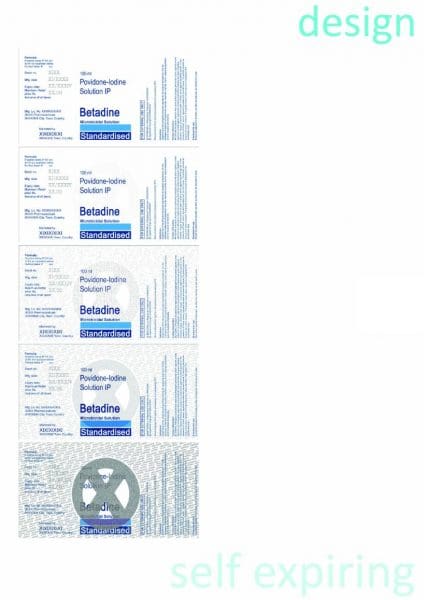 Because there are already self-expiring identification badges and milk cartons (the packaging changes color as the milk spoils), it may be simpler to adapt the technology to new uses such as this one.
"The pharma companies might not get behind this idea unless the additional cost to packaging, however minuscule, can be passed on to consumers, Gautam said. An FDA requirement for self-expiring packaging for drugs with a high risk of adverse effects after expiration would help expedite adoption, he said.