Finding effective treatment that works for various chronic conditions is rare and heavily sought after. But this is exactly what experts hope to accomplish with vagus nerve stimulation. Relatively new, there is still a lot to learn about this form of treatment, including exactly what it does and who it can help.
If you are struggling with chronic pain or other serious medical conditions, vagus nerve stimulation might be an option for you. Read on to learn more about the different forms of this treatment, the risks, and the potential benefits.
What Does the Vagus Nerve Do?
The vagus nerve serves an essential role in the functionality of the human body. The vagus nerve is classified as one of the 12 cranial nerves, which control everything from the senses to movements throughout the body. This specific nerve can be found running from the brain all the way through to the colon.
The vagus nerve is in charge of regulating the autonomic nervous system. This means being responsible for things such as:
Heart functions
Digestion
Breathing
Reflexes like sneezing, swallowing, and gagging
In short, the vagus nerve is responsible for many unconscious actions. When the nerve is damaged or dysfunctional in any way, it can not only make life a lot more challenging, but it can also become dangerous. Vagus nerve damage can contribute to gastrointestinal distress (nausea or vomiting), problems regulating heart rate, low blood pressure, and mental health issues.
To combat this, experts have introduced vagus nerve stimulation therapy. Let's dive deeper into what exactly this therapy does as well as what it can treat.
What Is Vagus Nerve Stimulation?
Vagus nerve stimulation is a type of therapy that works to activate this nerve. When the nerve is stimulated, it can once again address all of the areas that it is responsible for. The activation comes in the form of mild electrical pulses that the patient usually doesn't even feel.
There are two different forms of VNS: surgical and non-surgical. The surgical route to VNS involves having a small device implanted under the skin. This device is attached to a lead, which is placed near either the right or the left vagus nerve, depending on the medical problem in question.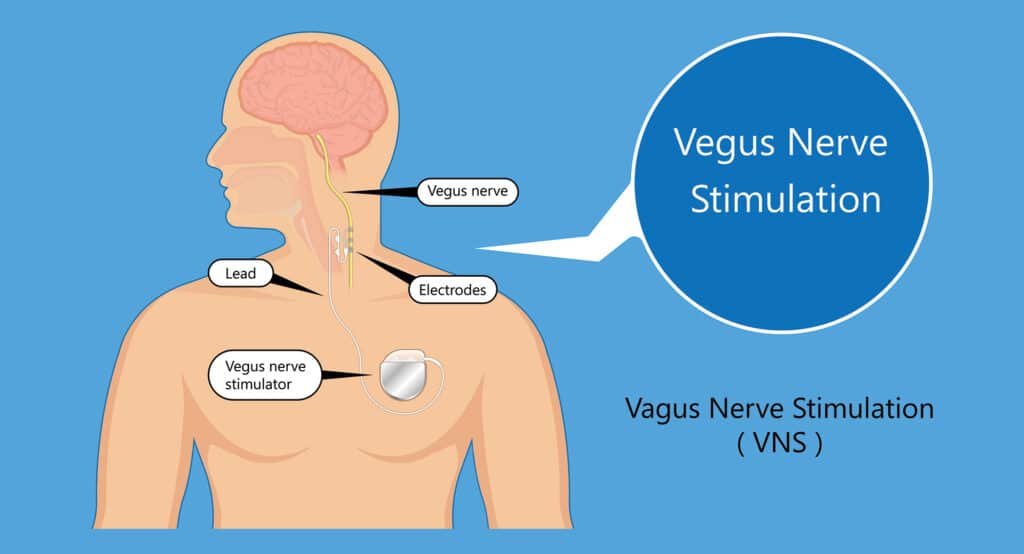 Recently, non-surgical VNS has been possible through the use of external devices. This approach to VNS can be successful in treating conditions such as Alzheimer's disease, heart failure, and more.
Who Can Benefit from VNS?
As shown above, VNS can be useful for a variety of conditions, including:
There are a lot of other conditions on top of the ones listed above in which researchers believe that VNS can be an effective form of treatment. However, more research and clinical trials are needed to really understand the extent of what VNS can do.
What Does the Future Look Like for VNS?
In truth, it's impossible to know exactly how far VNS will go in treating medical conditions. Studies suggest that there are many more opportunities for VNS to be used as a treatment option. In the future, vagus nerve stimulation could provide more pain relief for people with chronic pain and might treat symptoms of other serious disorders.
If you feel that you might benefit from VNS, be sure to speak to your doctor or other trusted health professional. They can walk you through your options and guide you on the next steps. You might also find comfort in speaking to other people who have been through this type of treatment. Learn more about this treatment option and more for different health conditions through the Pain Resource Community. You might be surprised to learn about all of the ways that VNS can help—especially when you've exhausted many other options just trying to find relief from unwanted symptoms.
What are your thoughts on this article?
Let us know in the comments below!
What topics should we cover next?
Email us your ideas at info@painresource.com!
Did you know we have different groups for different conditions?