This cold and flu season is unlike anything we've seen before. With talks of a tripledemic—a season where the flu, COVID-19, and RSV have intensified—states across the nation are experiencing higher than average respiratory virus activity, with millions already infected. With all the sneezing and sniffling happening around you, it's likely that you know someone who is currently sick. To protect yourself this cold and flu season, here's how you can safeguard your health for the months ahead.
How to Protect Your Health During Cold and Flu Season
1. Stay up to date on all vaccinations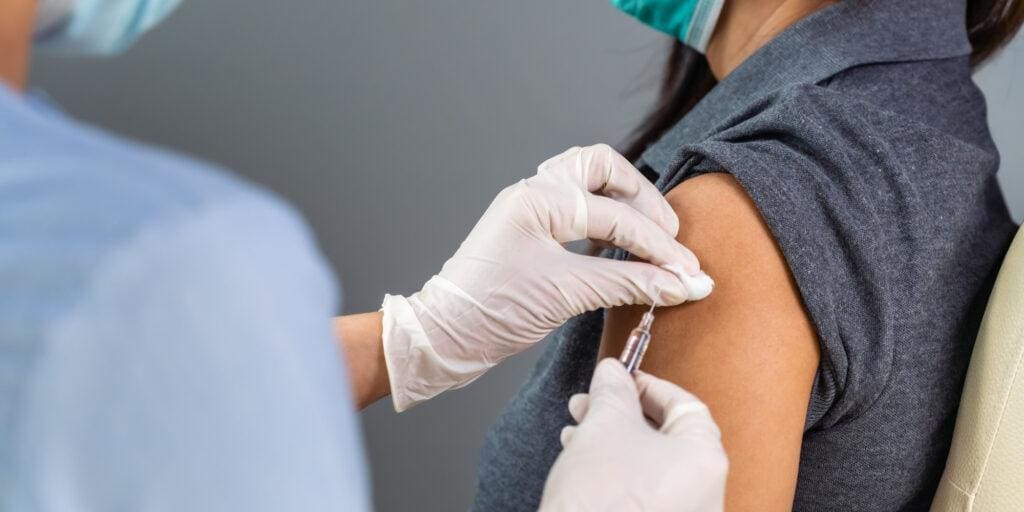 The best way to protect yourself during cold and flu season is to roll up your sleeve and stay up to date on all vaccinations. Flu and COVID-19 vaccines are highly effective at preventing severe illness as they offer targeted protection that can keep you from getting infected and reduce your chances of hospitalization and death.
According to CDC Director Rochelle Walensky, this year's flu vaccine is a "very good match" to the viral strains currently circulating in the United States. Additionally, the bivalent COVID-19 booster shot that was made available in September is formulated to protect against not only the original coronavirus strain but also the Omicron subvariants such as BQ.1.1, which currently dominates the nation.
"Getting that updated bivalent vaccine is the single most important thing you can do to make sure your immunity is up to date and that you can fight the virus that's out there," said Dr. Ashish Jha, the White House COVID-19 response coordinator
. 
If you have yet to receive a flu shot or one of the COVID-19 vaccines, it's never too late to get the jab and protect yourself. Remember, though, it takes two weeks for full protection from a vaccine to kick in.
2. Avoid indoor crowded areas (if possible)
This one is easier said than done, especially after isolation efforts to combat the COVID-19 pandemic. But indoor crowded areas are vectors for the spread of viruses like the flu and COVID-19 as they are usually poorly ventilated. But don't worry, you don't have to forfeit socializing with loved ones during this cold and flu season to stay healthy.
Alternatives to consider include:
Opting for outdoor activities, e.g., ice skating, hiking, holiday markets, window shopping
Having meals and drinks outside
Improving the ventilation in your home when hosting a gathering by opening windows and doors or using an air purifier
3. Wash your hands and sanitize
It's the simplest and easiest prevention method but one that people tend to neglect. Many viral illnesses like the flu and RSV spread by touching contaminated surfaces and then your face.
The CDC recommends washing your hands with soap and water for at least 20 seconds. And if soap and water are not available, opt for an alcohol-based hand sanitizer that contains at least 60% alcohol.
Additionally, consider cleaning your electronic devices, such as your smartphone and computer, as they are in constant use and (most likely) crawling with germs. To sanitize your devices, use a slightly dampened cloth with soap and water and avoid saturating your device with liquid to avoid damaging your electronics.
4. Consider masking up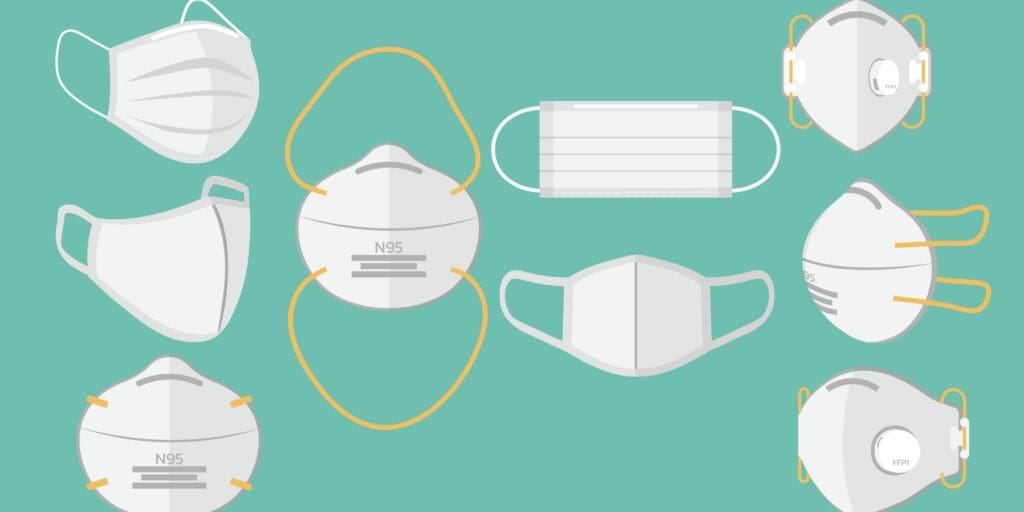 Wearing a high quality mask in public spaces like KN95s and N95s is a simple intervention that has been shown to reduce viral transmission and provide protection for yourself and those you come into contact with.
The CDC currently recommends masks for the general public during this cold and flu season as the spread of COVID-19, the flu, and RSV have increased in recent weeks. Moreover, masks such as nonsurgical N95s give the most protection, followed by KN95s and medical masks. Cloth masks provide the least protection.
To get the most out of your mask, make sure it fits snug over your nose, mouth, and chin, with no gaps. Additionally, you should feel air coming through the front of the mask when you breathe out rather than feeling air coming out from under the edges of your mask.
Face masks combined with the above preventive measures, such as vaccination, hand-washing, and physical distancing, can help slow the spread of the tripledemic. For affordable, high quality masks you can trust, visit Project N95, a national non-profit working to protect people and their communities during the COVID-19 pandemic and beyond. Here, you'll find a wide selection of masks of different sizes and made for all ages.
5. Nurture your gut microbiome
Your gut and immune system are intimately linked. So, if you're looking to improve your immune system during cold and flu season, it's time to start listening to your gut microbiome.
Your gut is home to thousands of different species of microorganisms, e.g., bacteria, viruses, fungi, and other microbes, collectively known as your gut microbiome. A healthy gut microbiome typically includes a wide range of beneficial bacteria and is vital for a healthy immune system. It plays an important role in regulating your immune system so that it responds to injury or infection rather than attacking healthy cells in the body.
Ways to nurture your gut microbiome include:
Eat your greens—Leafy green vegetables like spinach, kale, and broccoli are loaded with fiber and provide the gut microbiome's good bacteria with food to thrive. It's also been observed that people who eat vegetables (and fruits) are less likely to grow disease causing bacteria.
Stock up on probiotics—Probiotics are chock-full of live bacteria that help ensure your gut is populated by mostly good types of microbes. Eating fermented foods such as kimchi, plain yogurt, and pickles is a great way to ensure your gut is happy and healthy.
Avoid overusing antibiotics—Antibiotics work by wiping out all bacteria in the gut, good and bad, which can hurt the gut microbiome. However, antibiotics are very useful for treating various illnesses; if you have to take an antibiotic, be sure to also take a probiotic for the duration of your prescription to replenish your gut bacteria.
Prioritize sleep—Studies show that people who sleep irregularly risk disrupting their gut microbiome and developing inflammatory diseases. To safeguard your health and strengthen your immune system during cold and flu season, aim for eight hours of sleep a night.
How Are You Staying Healthy This Cold and Flu Season?
Let us know in the comments below!
What Topics Regarding Cold and Flu Season Should We Cover Next?
Email us your ideas at info@painresource.com
Join the Pain Resource Community 
Did you know Pain Resource has different groups for different conditions? Connect with others who share the same condition as you here.