In what has arguably become one of the biggest stories in recent professional tennis history, Naomi Osaka, the world's second-ranked woman in tennis, has withdrawn from the French Open after a near weeklong conflict with tournament leaders.
Osaka's decision to withdraw from the tournament came as a shock to the entire world, as she is not only the world's highest-paid female athlete but also one of the most popular tennis players in the world.
Osaka's voluntary withdrawal from the tournament marks the first time a professional tennis player that has not suffered a physical injury has walked away in the middle of a tournament.
The conflict between Osaka and tournament officials began when she announced that she would not be participating in any post-match news conferences during the French Open. Osaka stated that she had received multiple negative questions and comments about her play, which had been affecting her mental health.
When Osaka made good on her promise, skipping her news conference following her first-round win on Sunday, she was fined $15,000 by the French Opens' tournament referee. The leaders of the four Grand Slam tournaments, the French and United States Open, the Wimbledon, and the Australian, furthered the punishment, stating Osaka could be expelled from the French Open as well as facing further penalties if she would not sit with the press.
In an Instagram post on Monday, May 31, Osaka announced that she would be withdrawing from the French Open, stating that her concerns for her mental health were what prompted her to forgo her press obligations.
"I think now the best thing for the tournament, the other players and my well-being is that I withdraw so that everyone can get back to focusing on the tennis going on in Paris," stated Osaka.
Osaka has never publicly spoken about her mental health, stating she had been battling bouts of depression for years. "I never wanted to be a distraction and I accept that my timing was not ideal and my message could have been clearer […] The truth is that I have suffered long bouts of depression since the US Open in 2018 and I have had a really hard time coping with that."
Gilles Moretton, president of the French Federation of Tennis, called Osaka's withdrawal "unfortunate" in a press conference following the Instagram post, adding that he and other tournament organizers wished her the "quickest possible recovery."
"We are sorry and sad for Naomi Osaka," he said. "We remain very committed to all athletes' well-being and to continually improving every aspect of players' experience in our tournament, including with the media, like we have always strived to do."
Osaka mentioned that she had never been treated poorly by reporters or journalists, but that "here in Paris I was already feeling vulnerable and anxious so I thought it was better to exercise self-care and skip the press conferences."
Osaka's withdrawal from the tournament is not the first time the tennis star has taken a public stand on an issue. Following the shooting of Jacob Blake in Kenosha, Wisconsin, Osaka announced she would not be playing her semifinal match to draw attention to the continued violence against Black people by police.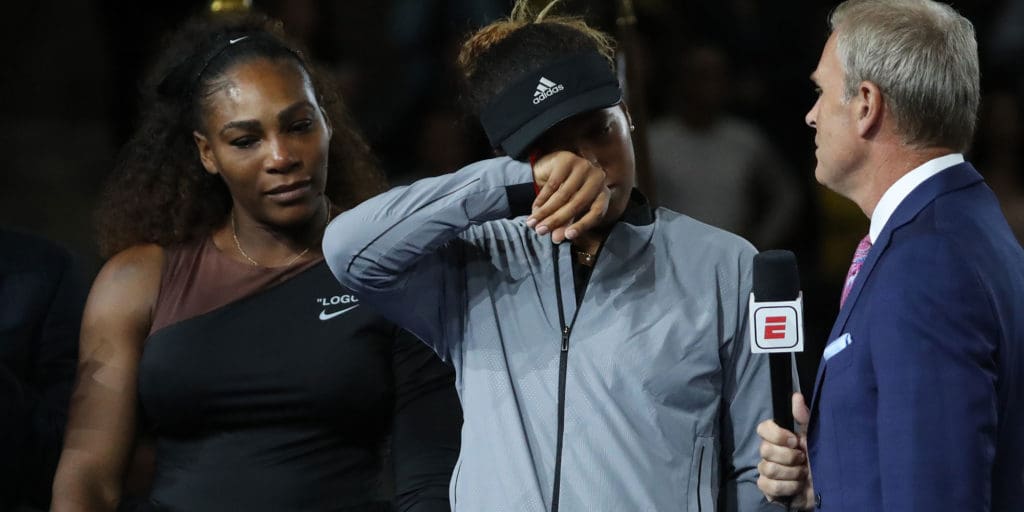 Although few of her colleagues have shown support for her, Osaka's withdrawal from the French Open has sparked major conversations about mental health across the globe. Serena Williams, the 23-time Grand Slam champion, said, "I feel for Naomi, and I wish I could give her a hug because I've been in those situations. You have to let her handle it the way she wants to in the best way she can."
Tournament officials say they have reached out to Osaka to try and start a conversation about both her well-being and her mental health, but that she "refused to engage with them, leaving them no choice but to pursue significant penalties."
"We want to underline that rules are in place to ensure all players are treated exactly the same, no matter their stature, beliefs, or achievement," the officials stated. "As a sport, there is nothing more important than ensuring no player has an unfair advantage over another, which unfortunately is the case in this situation if one player refuses to dedicate time to participate in media commitments while the others all honor their commitments."
Osaka said that she had privately written to the officials about her decision. She says that she apologized for the distraction she caused, and offered to speak with them following the tournament in regards to her press obligations.
Following her withdrawal, many prominent figures have come out on social media in support of Osaka. In an Instagram post made last Thursday, Will Smith spoke out on the issue with a photo that read, "Hey Naomi, You are right. They are wrong. I am with you." The photo currently has over 750,000 likes.
While perhaps unrelated, Roger Federer, a 20-time Grand Slam champion and one of the most prominent tennis players in the world, stunned the tennis world on Sunday when he announced he would not be playing the remainder of his French Open tournament.
Federer did not specify that he was injured but stated that he was merely opting out of the tournament to save himself for the grass-court season. "After two knee operations and more than a year of rehabilitation, it's important that I listen to my body and not rush back into competition," Federer tweeted.
While the withdrawal sparked backlash from many, French Open officials praised Federer's decision, which has caused many to point out the hypocrisy of the tournament officials.
"We were all delighted to see Roger back in Paris, where he played three high-level matches. We wish him all the best for the rest of the season," said Guy Forget, the tournament director.
Such remarks are in stark contrast to those made by both Forget and other officials following Osaka's withdrawal from the French Open. Retired American tennis player Mardy Fish joined the debate, tweeting out "So the French Open lost Osaka (didn't know how to handle a mental health issue) and Federer (scheduling). Two of the biggest draws in all of Sport."
Others were also quick to point out the glaring disparities between the reactions of tournament officials to Federer and Osaka's withdrawals. Twitter user David Courteen tweeted, "The inequity of how the tournament reacted to the Federer & Osaka scenarios is staggering. If the roles were reversed, would they have threatened Federer with expulsion from future grand slams? I think not."
Osaka says she is planning on taking some time away from tennis, but that "when the time is right I really want to work with the Tour to discuss ways we can make things better for the players, press, and fans."
"I'll see you when I see you," Osaka said as she ended her message.
What are your thoughts on Osaka quitting the French Open?
Tell us about your experience in the comments. 
What topics related to mental health would you like to see us explore?
Email us at info@painresource.com with your ideas.
Are you on Facebook?