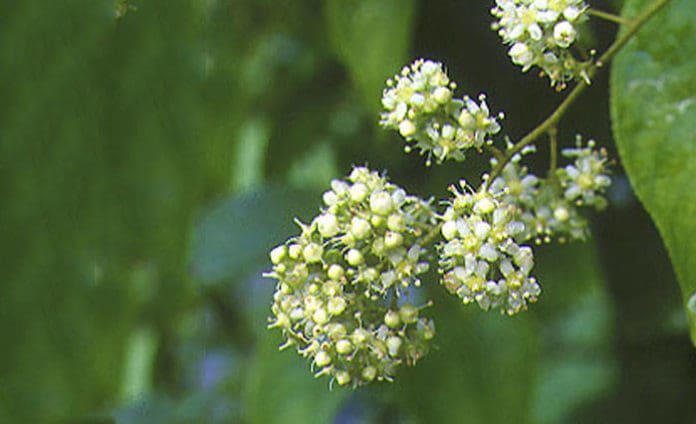 The Thunder God Vine has shown promising results in evicting tumors from the pancreas in mice.
Used for hundreds of years in China as a treatment for rheumatoid arthritis, the Thunder God Vine, or Lei Gong Teng, may have a more significant purpose. The new treatment? Tumor Removal.
Researchers at the University Of Minnesota's Masonic Cancer Center have been testing it on mice with pancreatic tumors for some time now. The results have been astounding, with the tumors being completely removed in less than 40 days, and no signs of the tumors returning. The mortality rate for pancreatic cancer is high, with new cases at 44,000 annually, and only 20% surviving beyond a year and 14% surviving beyond 5 years. Needless to say, the results of this discovery are promising to the hope of survival for pancreatic cancer patients.
The Thunder God Vine grows in the mountains of China, as well as Taiwan and Myanmar. It is a climbing vine which produces white flowers and red fruit. The plant's leaves, flowers, nectar, and outer skin of the root are poisonous. The root pulp is the only non-poisonous part, which is used medicinally. There is a risk of poisoning if the herb is not extracted properly.
Source:Â Gale Encyclopedia of Alternative Medicine
Also known as Tripterygium Wilfordii, the plant contains Triptolide, a chemical with powerful properties that have also proven effective at treating hepatitis, spondilytis, and polycystic kidney disease. The drug works by blocking gene control machinery in the cell. This means it not only blocks the growth of cancer cells but has the potential to kill them. Triptolide has been tested in over 60 types of cancer cells, showing effectiveness in all of them.
All this research leads to one amazing thing, a success rate in mice that is astounding. This drug is just unbelievably potent in killing tumor cells, said Ashok Saluja, vice chairman of research at the center. You could see that every day you looked at those mice, the tumor was decreasing and decreasing, and then just gone.
While the effectiveness in mice is incredible, it has yet to be tested on humans in a clinical setting. It is hoped that human trials will commence in the next six months, although nobody can be certain of the results. Does that mean it will definitely work in humans? he said. We can definitely not say that. All we can do is hope.
The most effective current treatment for pancreatic cancer only adds about six weeks to a patient's survival and does little to tackle the root causes of the illness. More promising alternatives are desperately needed to tackle this aggressive form of cancer. This drug may hold the answer to paving a new road toward treatment options for pancreatic cancer and other forms of cancer, as well.
Sources: Bloomberg News, Pancreatic.org, Doctor Nalini
Photo credit: Plant Kaleidoscope