By now you've probably heard of turmeric, the bright yellow super spice that provides a number of health benefits. In order to get the recommended dosage of turmeric, supplementing with turmeric shots has become popular. And while most people understand that turmeric shot benefits include an immune system boost, there are several other turmeric shot benefits that you might not be aware of.
In case you haven't yet learned of turmeric, it is a root spice that comes from the Curcuma longa plant that originated in Asia. It has been used for millennia in other countries as a natural form of medicine due to its anti-inflammatory and immune-boosting properties. But the benefits don't end there.
Turmeric Shot Benefits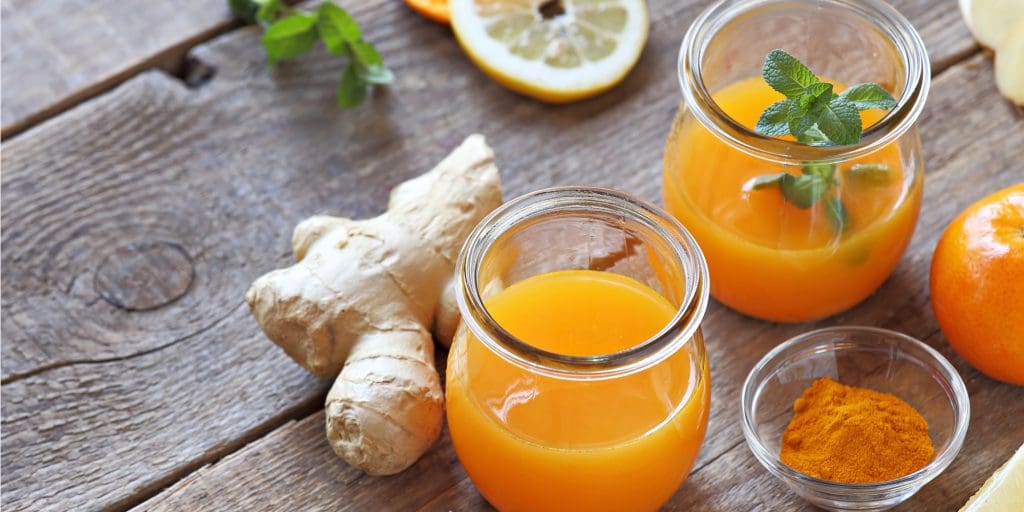 Turmeric contains the bioactive compound curcumin, the ingredient that is credited for much of turmeric's health benefits. While not clearly understood, turmeric and curcumin are thought to lower inflammation, relieve pain, and aid in digestion. Lesser-known associations between turmeric and health benefits include:
It has been difficult to pinpoint exactly why curcumin and turmeric are so beneficial in so many different conditions. Research suggests that it could boil down to the antioxidant and anti-inflammatory properties. In any case, there is little harm in adding daily turmeric shots or supplements to your diet, as long as it has been cleared by a medical professional.
The Best Way to Take Turmeric
Turmeric shots are a great way to add turmeric and curcumin to your diet. However, it is important to keep in mind that the turmeric dosage needed to improve health is at least 500 mg, which is relatively high. This equates to about 2.5 teaspoons of turmeric powder each day.
Another challenge to supplementing with turmeric is its bioavailability, which is relatively low. This means that turmeric and curcumin are not easily absorbed by the body. To increase the abortion rate, it is recommended to include black pepper and fatty oils in your turmeric shot recipes as noted in the example below.
Example Turmeric Shot Recipe:
1/4 cup apple cider vinegar
1 tablespoon of powdered turmeric
 1/4 cup coconut water
1/4 cup orange juice
Dash of black pepper
1/4 teaspoon of oil (i.e., coconut oil)
Improving your diet is always a step towards becoming more healthy and in this case, you may not have to look further than your spice cabinet!
Other Recipes Including Turmeric
How Do You Work Turmeric Into Your Diet?
Share your tips in the comments below!
What Topics Would You Like to See Us Explore Next?
Email us at info@painresource.com with your ideas.
Are you on Facebook?