Depending on where you live, the leaves may be changing, the temperatures could be falling, and you might see children and adults gearing up for Halloween. But has COVID canceled Halloween this year? Or can you safely get in the spooky spirit?
Well, good news and bad news. The good news is that Halloween is still on, but the bad news is that it may not be quite what you're used to. Let's take a look at what the health experts are advising for this year's Halloween celebrations.
Go Trick-or-Treating… Maybe
Depending on your location and your city's ordinances, trick-or-treating could still be in the cards for your kids. But in places where coronavirus cases are spiking, trick-or-treating probably isn't the best idea. 
Additionally, you should keep the celebrations at home if you or your loved one is sick or was exposed to someone who could have been infected. But if your local numbers are on the decline and your family hasn't had any noticeable exposure, trick-or-treating can still be safe. With a few precautions, of course.
First, limit groups of children to three or four. This will minimize their contact with other children, who could be carrying the virus without realizing it. Additionally, instruct children to avoid trick-or-treating in apartments. Enclosed spaces make it much easier for coronavirus to spread, so trick-or-treating should be kept outside as much as possible.
If you're worried about kids picking up germs from candy, you can wipe down the wrappers or just let them sit out for a few days. Coronavirus is less likely to transmit via residue on candy than by direct contact with an infected person, but it's a simple step to take if you're feeling extra cautious.
Of course, your children will need to understand that they have to follow all these rules. Even for older children, an adult chaperone can be a good idea, just to make sure that all safety regulations are being followed.
Now that you know what you can do to limit COVID-19 spread while trick-or-treating, let's talk about Halloween costumes.
Halloween Costumes and COVID Guidelines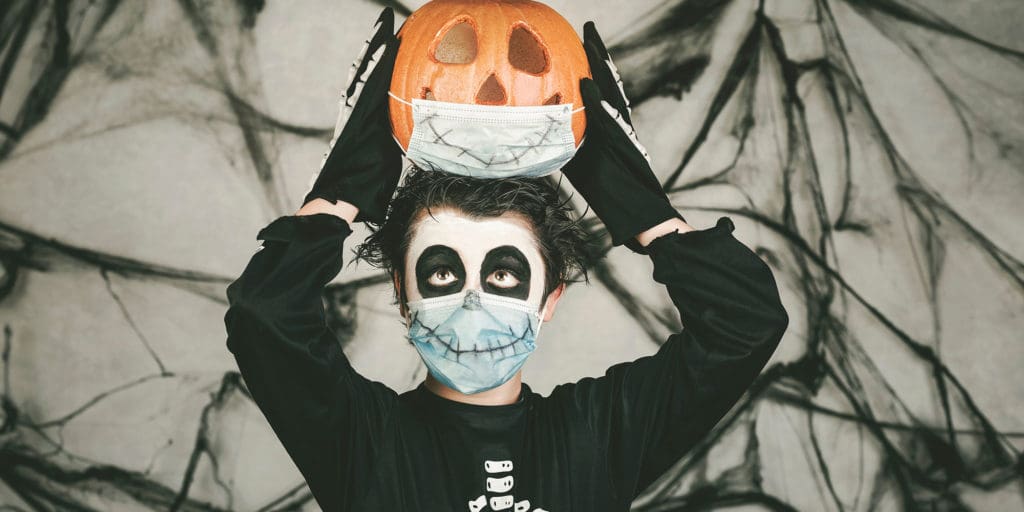 Unless you've been living under not only a rock, but a full-fledged mountain, you've probably noticed that masks are essential for any public activity now. Of course, that raises some questions about Halloween: Are Halloween masks as good as cloth face masks at stopping transmission?
In short, no. Most Halloween masks are either made of hard plastics with mouth holes or very breathable stretch fabrics, and in either case, they're not going to stop coronavirus from spreading. On the other hand, a child wearing both a Halloween mask and a cloth face mask could have trouble breathing. Luckily, this doesn't mean that trick-or-treaters have to wear masks that ruin their costumes.
Instead, buy a Halloween-themed mask or go full DIY and make one yourself. It's easy enough to find a green face mask and add a witch's nose to the outside or to paint whiskers on a mask. Unfortunately, that does mean leaving out any costumes that require a full mask, but there are enough alternatives that your Halloween should be far from canceled.
Remember, the goal of a cloth face mask is to stop saliva droplets of infected individuals from landing on other people. So stick to masks that completely cover the mouth and nose and are specifically designed to prevent infection.
Of course, what if you don't have kids, or you're not comfortable with them trick-or-treating? You're in luck, because this Halloween, there are some great ideas for ways to celebrate at home.
Pass Out Candy from a Distance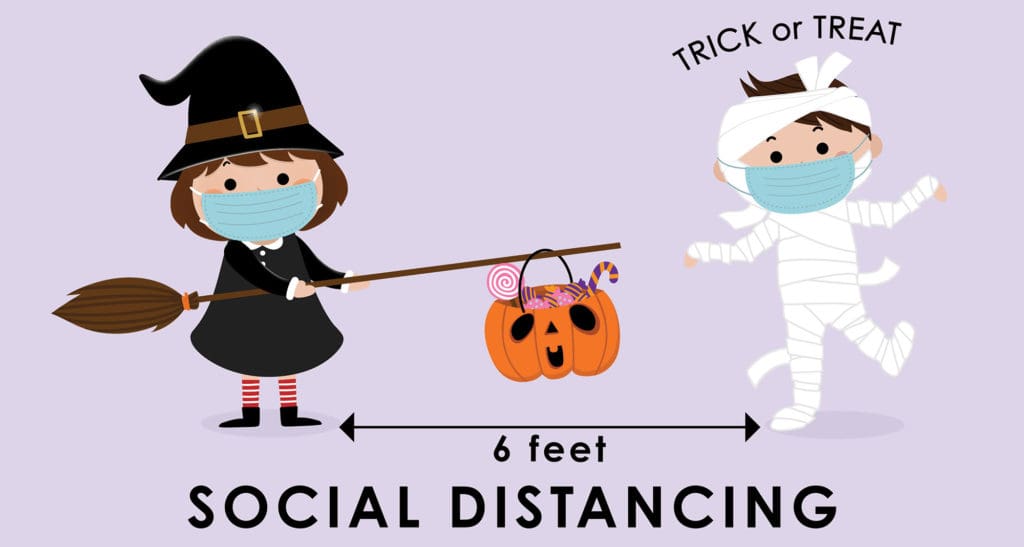 As you might imagine, sitting on your front porch and handing candy to children isn't the safest way to celebrate Halloween this year. But the good news is that you can both spread the Halloween spirit and practice some social distancing.
Try individually wrapping goodie bags and leaving them at the end of your driveway or yard. This way, children can take treats without anyone having to worry about increased exposure to the virus. Not only will this keep parents at ease, but it could make Halloween a lot more enjoyable for children, who are also experiencing increased anxiety from the coronavirus.
It may not be quite as fun as handing candy to children, but remember that we all have to make accommodations to keep each other safe right now. And you can still get in the holiday spirit this way! Try decorating the bowl you leave candy in or wrapping goodie bags in holiday-themed bags. With a little creativity, there doesn't need to be any less Halloween spirit this year.
But once you've set out the candy, what are you supposed to do for your own Halloween celebrations?
At-Home Halloween Ideas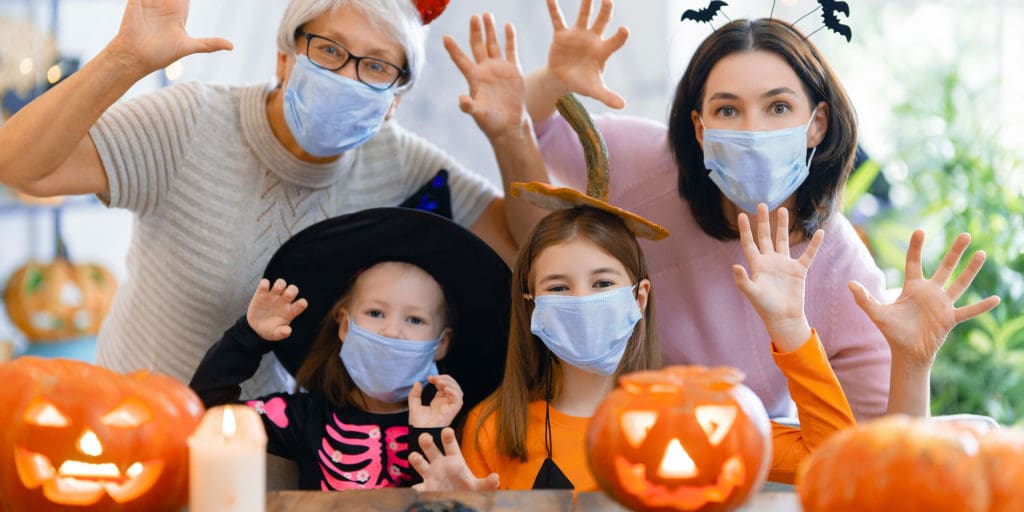 Whether you don't have kids of your own, you've been feeling sick, or you're living in a COVID hotspot, there's no shortage of ways to celebrate Halloween at home.
If you need an alternative to trick-or-treating, try a candy scavenger hunt in your home or in an enclosed yard. Sure, it's a little more of an Easter tradition, but when the kids are dressed up in their costumes and looking for candy, it's going to feel a lot like Halloween.
Or, if you're just looking for ways to celebrate with other adults, you've got a wide range of choices. You could try watching a movie together with friends; Netflix even offers a feature where you and your friends can virtually watch movies together. Break out the popcorn, pick a scary movie, and you can share Halloween with the people you care about while staying completely safe.
But what if you love doing big costumes every year? Well, just because going out to a party is a bad idea doesn't mean that you can't get dressed up. Take pictures and share them on social media, or even better, get some of your friends involved and have a Zoom party with a costume contest. 
If all else fails, you can always fall back on making your own Halloween snacks. It's seasonal, it's festive, and if you do it right, it's delicious. What's not to love?
Whatever you choose, do what makes you happy. 2020 hasn't been fun for anybody, and you've earned an evening of holiday celebrations that suit your circumstances and preferences.
Celebrate Halloween Your Way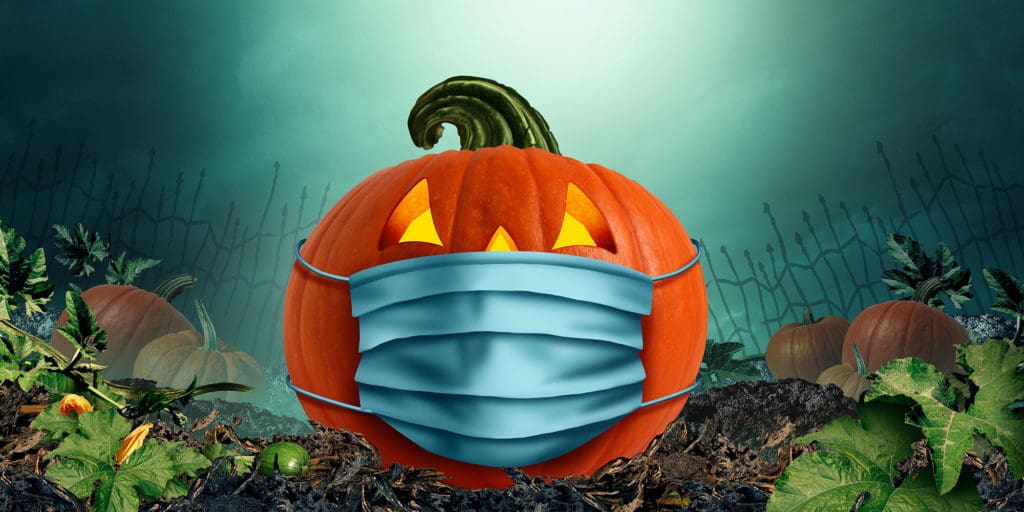 No matter what you want out of Halloween or where you live, there's no reason that you can't celebrate this holiday in a way that makes sense for you. People with chronic pain often have to pass on going out; the only difference is that this time, the world is more likely to celebrate with you at home.
Do what it takes to have a safe, happy holiday for yourself and your community. Halloween only comes once a year, so be sure to enjoy this occasion for scary movies, candy, and lots of store-bought cobwebs.
What are your Halloween plans during COVID?
Tell us about your experience in the comments below. 
What questions do you still have about COVID safety and seasonal celebrations?
Email us at info@painresource.com with your ideas!
Are you on Facebook?
Join our online community by clicking here.