When you're living with chronic pain, it can be hard to have the energy to exercise or cook healthy meals. However, making good choices and maintaining a healthy weight may reduce your chronic pain symptoms. If you are looking for ideas for healthy snacks for weight loss, congratulations on taking a step forward!
Achieving and maintaining a healthy weight is important in general but is especially crucial if you are living with chronic pain. Being overweight or obese may have a direct impact on the root cause of chronic pain. The good news is that healthy, gradual, weight loss can significantly improve chronic pain, and may even be an option for some people to avoid surgery.
Making the commitment and sticking to it is the first and most difficult step of the process. The next step is making a plan. That's where this guide comes in. We've got 5 quick and easy healthy snacks to help you lose weight and get healthier:
Apple Slices and Almond Butter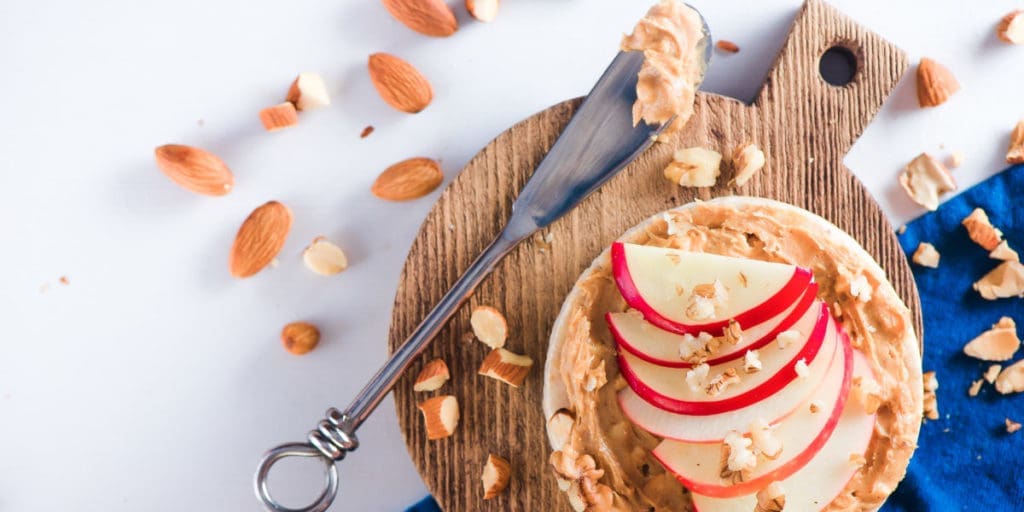 Apples are a great source of nutrients and antioxidants. They are also high in fiber. They can aid in digestion, improve gut health and reduce the risk of heart disease.
Nut butters such as almond butter are filled with healthy fats, protein and fiber. You may opt for peanut butter instead, but remember that almond butter is more nutrient dense than peanut butter and provides more grams of fiber.
Apple slices and almond butter not only tastes great but it is also easy to prepare and good for you. The fiber and protein give your body lasting fuel without the empty calories of chips or cookies. To make the most out of this healthy snack, try to avoid nut butters with added sugar.
For a quick mid-morning snack, try slicing up one medium apple and adding one tablespoon of your favorite nut butter. You'll get 2.4 grams of protein and over a dozen vitamins and minerals at under 200 calories.
Vegetables and Hummus
Did you know that a diet deficient in fruits and vegetables is one of the root causes of chronic pain and other degenerative diseases? Keeping fresh plant foods out of your diet can result in what is known as a pro-inflammatory state. In other words, if you don't eat enough greens, reds, oranges and blue foods, your body tends to experience inflammation that can cause chronic pain.
An easy way to incorporate more veggies into your diet is to include them in your daily snack routine. Instead of dipping your vegetables in dressings, try hummus.
Hummus typically is made of chickpeas, olive oil, garlic, tahini and lemon. It is high in protein (plant-based protein at that – about 6 grams for only ½ a cup!) and is delicious on vegetables. Buy it pre-made in your local grocery store or whip some up yourself at home in under 10 minutes.
Carrots, sweet potato slices, cucumber slices, bell pepper slices and celery sticks are all excellent choices of vegetables to dip in the hummus. They all have high water and/or high fiber content that help keep you feeling full while helping to keep you hydrated.
One-half cup of hummus alone delivers about 20% of your %DV of fiber. Together with a serving of vegetables, you can meet up to half of your daily fiber recommendations just in this snack. Fiber will help keep you feeling fuller for longer. Plus, you'll enjoy the health-boosting benefits of the nutrients in vegetables.
Coconut Yogurt and Mixed Berries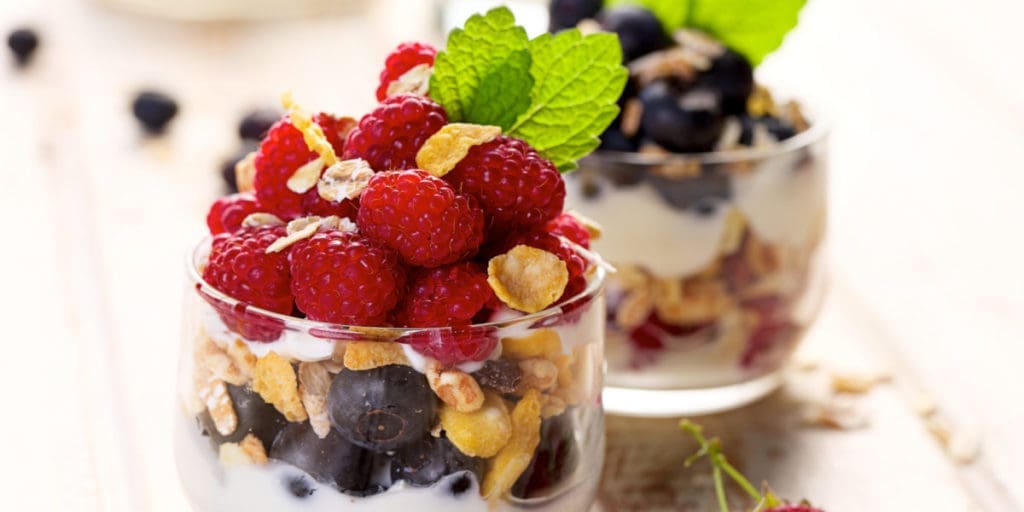 Coconut yogurt is an excellent source of calcium and magnesium, both of which are crucial for muscle function. Thanks to plant-based diets going more mainstream, it's never been easier to find coconut yogurt in your local grocery store. You can find many other non-dairy yogurt options as well.
Mixed berries such as blueberries, strawberries, raspberries and blackberries have antioxidants and vitamins that help to fight free radicals and inflammation. This is crucial for preventing and treating chronic pain.
For an easy healthy snack on-the-go, mix a handful of berries into your coconut yogurt.
Kale Chips – Healthy Snacks Recipe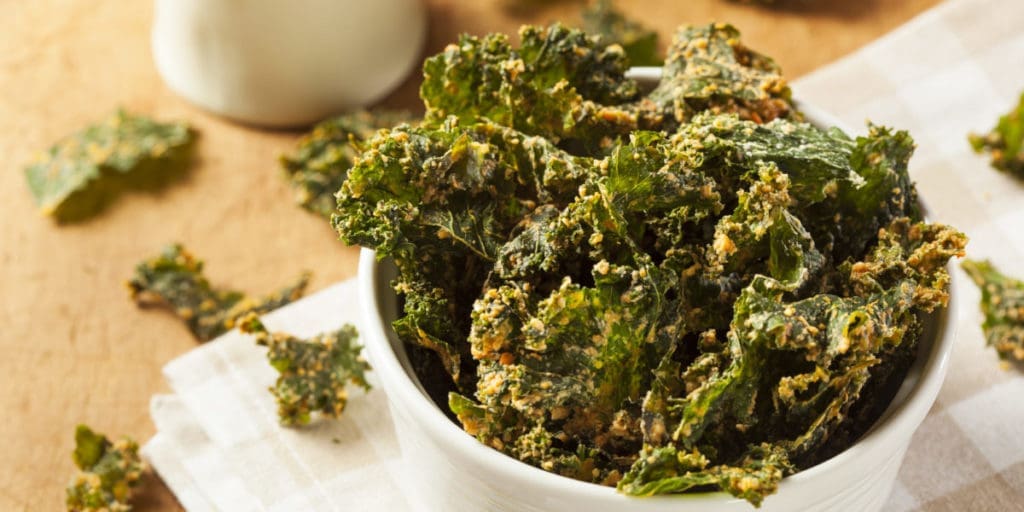 When hunger kicks in, ditch the potato chips. If you love a crunchy, sea salt chip as a snack but want a healthy alternative, then give kale chips a try. They are easy to make and filled with fiber and antioxidants. As a bonus, the nutrients in kale, along with other fruits and vegetables, may reduce the risk of colon cancer.
In addition, eating just one cup of kale gives you the recommended daily value of vitamins A, C and K and is only 33 calories!  The recipe below, including the added olive oil, delivers only about 100 calories, plus the benefit of kicking that chip craving to the curb.
Are you unsure if this is an easy snack option for you? Don't worry! We've provided you with a step-by-step recipe so you can quickly make your own kale chips: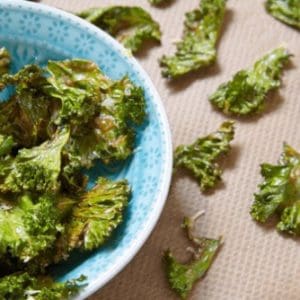 Kale Chips Recipe
Elevate your well-being with our Kale Chips — a simple and wholesome recipe featuring bite-sized kale leaves tossed in heart-healthy olive oil and a pinch of salt. Savor the crispiness of these nutrient-packed delights, each chip delivering a burst of flavor and a host of health benefits. Packed with vitamins, minerals, and antioxidants from kale, and boasting the richness of olive oil, this guilt-free snack is a crunchy celebration of both taste and nutrition. Discover the joy of snacking smartly with our Kale Chips, a delightful treat that nourishes your body with every satisfying crunch.
Ingredients
1

cup

bite-sized kale leaves

1

Tbsp

olive oil

1/2

tsp

salt
Instructions
Mix the ingredients in a bowl.

Place kale pieces on a parchment-lined baking sheet.

Bake at 350° F (175° C) for 10–15 minutes
Almonds with Dark Chocolate
For that sweet and salty combination, eat a snack with lightly salted roasted almonds and dark chocolate. Dark chocolate is packed with flavonoids. These are known to lower blood pressure and reduce heart disease risk.
Make sure the dark chocolate is a minimum of 70% cocoa for the highest antioxidant potency without the added sugar and milk. Almonds may also help to lower blood sugar. In addition, dark chocolate and almonds are both high in magnesium, which is needed for over 300 biochemical reactions in the body.
If you tend to suffer from a sweet tooth, you're in luck. This snack will help to fight sweet cravings without the fillers and taste agents that fight against weight loss.
It's important to talk with your doctor or registered dietician before changing your diet regimen
Make sure, however, to control your portions. This can be a healthy snack for weight loss in moderation, but if you don't monitor your intake, this snack can quickly become one that packs in added calories. Half an ounce of dark chocolate and ½ ounce of almonds will deliver a snack under 200 calories.
Get Personalized Advice for Your Healthy Snacks Diet
It's important to talk with your doctor or registered dietician before changing your diet regimen. What works for one person may not be adequate for another, so it is important to get advice designed for you.
In addition to these easy healthy snacks for weight loss, it is important to have a healthy overall diet. Follow similar guidelines we've provided for these snacks in your meals as well – lots of fruits and vegetables, fiber-packed foods, healthy fats, and lean protein. Living a balanced lifestyle can help you achieve your health goals, maintain a healthy weight and control your chronic pain.