With Thanksgiving, the winter holidays and all the traditions they bring upon us, you might be feeling like requesting, cooking and/or bringing healthy, plant-based options might be a challenge. But fear not: plant-based options have never been more convenient, more affordable, more accessible and more popular! Uncle Jim might not understand why you're now passing on the turkey. Cousin Tamara might pass on the invite to your house this year since you won't be serving anything that isn't plant-based. But that's OK; with plant-based holiday options, you'll be setting new traditions for yourself, for the loved ones who support you and for your health.
If you live with chronic pain, you know that a mind-body approach that emphasizes improvement on your overall health – including your diet – is key to managing your pain. What you may not know is that choosing to follow a plant-based diet may help to provide you some relief. Be it chronic inflammatory diseases, diabetic neuropathy pain, diabetic neuropathy pain, fibromyalgia, or a myriad of other invisible illnesses, research shows that plant-based diets can be a powerful management tool. So let's explore the health benefits of a plant-based diet and a few recipes that will fit perfectly on your first plant-based holiday table.
Benefits of a plant-based diet
Sure, switching to a whole food plant-based diet may mean making some significant lifestyle and food choice changes. And sure, it may mean people around you may have a lot of questions (some of which you may not know how to answer), especially if that means a plant-based holiday menu. But it also means you get to reap health benefits galore!
Eating a plant-based diet can make your bloodstream "much more hostile to cancer."
"Of the millions diagnosed with cancer every year, as many as 90 to 95% of cancers are caused by 'lifestyle factors,' and only 5% to 10% caused by bad genes." Eating a diet that is not plant-based is one of those factors. Don't believe the growing body of science that shows this? Then check out the number of success stories and testimonies from those adopting this diet while battling cancer.
Plant-based diets "can be highly effective in preventing, treating, and even reversing type 2 diabetes."
Making lifestyle changes such as eating a "diet of mostly plants may help prevent and reverse coronary artery disease."
Plant-based diets "should be considered a viable option for patients who are interested in losing weight and improving dietary quality consistent with chronic disease prevention and treatment."
Adhering to a long-term plant-based diet can lead to "significant improvement in tender  and swollen joints, pain, duration of morning stiffness and grip strength."
Those who live with chronic musculoskeletal pain can see significant improvements in chronic pain and function if they switch to a plant-based diet.
Plant-based foods include vegetables, fruits, whole grains, legumes, tubers, nuts and seeds. Well-balanced plant-based diets are low in saturated fat, include complete proteins, and are nutritionally dense with a focus on vitamins, minerals and fiber.
Adopting and adhering to the diet long-term as opposed to expecting results right away is key to your success. Drinking a green smoothie one day will not prevent illness even if it is high in antioxidants, vitamins and minerals. But drinking a natural fruit and vegetable smoothie most days over several months and years and combining such an option with other healthy plant-based options on a daily basis can help to prevent a range of illnesses and help you establish a healthier lifestyle.
There are also the environmental benefits of a plant-based diet.
"[Continued consumption of meat] could lead to dangerous levels of climate change with higher occurrences of extreme weather events, affect the regulatory function of forest ecosystems and biodiversity … and pollute water bodies such that it would lead to more oxygen-depleted dead zones in oceans."
Eating a plant-based diet uses 26.9% less energy to produce, 45.1% less land consumption and emits 49.6% fewer greenhouse gases.
Healthy Thanksgiving Recipes
Don't let anyone tell you these options are merely sides. They stand on their own as yummy, healthy, filling options that are sure to help you serve some holiday cheer!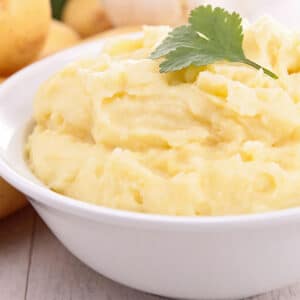 Garlic Mashed Potatoes 
Ingredients
8

medium red potatoes

½

tsp

black pepper

10-12

cloves

of fresh garlic

1-2

cups

potato water

1

cup

plant-based milk

Water or low-sodium vegetable broth

Salt/pepper/seasonings to taste
Instructions
Cut potatoes into eighths with the the skins on. Cover with water and boil over medium heat until soft for about 15 minutes. Peel, crush and mince garlic cloves. Sauté garlic in a small pan with water or vegetable broth until softened. Set aside. Drain cooked potatoes over a bowl to catch the potato water. Using a hand masher or an electric mixer, mash the potatoes. Add back one cup of the potato water and add the salt, pepper and other preferred seasonings and the sautéed garlic. Add more potato water and/or plant-based milk as needed to get a creamy consistency. Serve right away or keep in warm oven covered until ready to eat.
Notes
Remember: New red potatoes make creamier mashed potatoes. If your garlic is old or the cloves are very small, more will be needed to get a really garlicky flavor.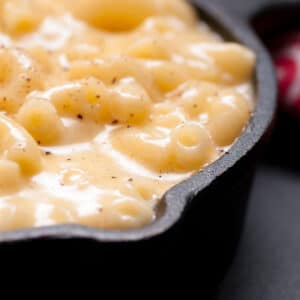 Vegan Macaroni and Cheese
Ingredients
10

ounces

dried macaroni

or about 2 2/3 cups

1

cup

peeled/diced yellow potatoes

or russets

1/4

cup

peeled/diced carrots

1/3

cup

chopped onion

3/4

cup

water

preferably use liquid from pot of boiled veggies

1/2

cup

raw cashews

1/4

cup

coconut milk

2

tablespoons

nutritional yeast flakes

1

tablespoon

lemon juice

3/4 to 1

teaspoon

salt

or more to taste

1/4

teaspoon

garlic powder

1

pinch

cayenne pepper

optional

1

pinch

paprika
Instructions
Cook macaroni al dente, according to package instructions (usually requires boiling for 6-8 minutes in salted water), drain, and set aside. Bring several cups of water to boil in a small pot. Place chopped potatoes, carrots, and onion in the boiling water, and cook for about 10 minutes, or until vegetables are tender and soft enough to blend. Cooking time will vary slightly, based on how small you have chopped your veggies. When veggies are soft enough to blend, use a slotted spoon to remove them from cooking water, and place them in your blender. Add 3/4 cup of that cooking water to your blender, along with your remaining ingredients (including cashews). Blend until smooth. Pour sauce over your cooked macaroni noodles in a dish of your choice, salt and season to taste. Place macaroni mixture in a baking dish, sprinkle with bread crumbs and bake at 350 degrees for 15 minutes or until crumbs are turning golden brown.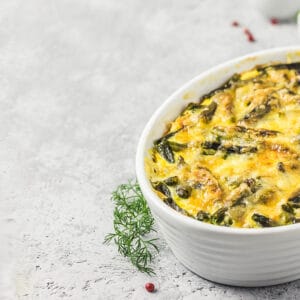 Vegan Green Bean Casserole
Ingredients
FOR THE ONION TOPPING
1

small onion

thinly sliced

1

tbsp.

extra-virgin olive oil

Kosher salt

Freshly ground black pepper

2

tbsp.

Panko bread crumbs

3

tbsp.

all-purpose flour
FOR CASSEROLE
1

lb.

green beans

trimmed

6

tbsp.

extra-virgin olive oil

divided

2

medium shallots

finely chopped

8

oz.

sliced mushrooms

2

cloves

garlic

minced

1/4

c.

all-purpose flour

3

c.

almond milk

Kosher salt

Freshly ground black pepper
Instructions
Make onion topping. Preheat oven to broil on medium and line a medium baking sheet with aluminum foil. In a medium bowl, toss onion with olive oil and season with salt and pepper. Add flour and Panko and toss to coat onions. Broil, tossing every 2 to 3 minutes, until onions are crisp and golden, about 6 to 8 minutes in total. Turn oven down to 375.

Prepare an ice bath. In a large pot of boiling water, add green beans and cook until bright green, about 6 minutes. With a slotted spoon or tongs, quickly transfer green beans to ice bath to cool, then drain and transfer to a large bowl.

In a large ovenproof skillet over medium heat, heat 2 tablespoons olive oil. Add shallots and cook, stirring occasionally until tender, about 5 minutes. Add mushrooms and season with salt and pepper. Cook, stirring often, until mushrooms are golden, about 5 minutes more. Stir in garlic then transfer mixture to the bowl with the green beans.

Heat remaining 4 tablespoons of olive oil in the same skillet over medium heat. Whisk in flour and cook until golden, about 2 minutes. Gradually whisk in almond milk and bring to a simmer. Cook until thickened, about 4 minutes. Remove from heat then add green bean mixture and toss until even combined. Transfer mixture to a medium casserole dish.

Bake until warmed through and bubbling around the edges, about 20 minutes. Top with "fried" onions and bake 5 minutes more.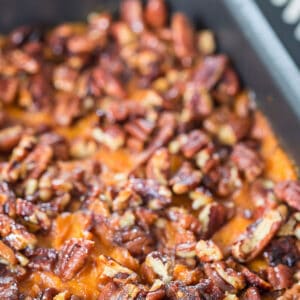 Sweet Potato Pineapple Casserole with Pecan Streusel
Ingredients
4

medium sweet potatoes

about 4 lbs

2

cups

diced pineapple and juice

from fresh, frozen or canned

2

tsp

ground cinnamon

1

tsp

ground ginger

1

tsp

grated nutmeg

¼

tsp

salt

optional

½

cup

pitted dates or date pieces

½

cup

brown rice flour

¼

cup

pecan pieces
Instructions
To roast the potatoes:
Scrub the potatoes and place on a baking sheet. Bake at 425 degrees until completely tender - about 1 hour – 90 minutes, depending on the size of your potatoes. This is plenty of time to make your streusel topping and prep your pineapple.
To make the streusel topping:
Chop the dates Combine the chopped dates with the brown rice flour, pecan pieces, cashew butter and a dash of salt. Use your hands to crumble together, just as you would with a traditional butter streusel topping. You want the streusel to hold together in pea-sized bits. If it's not sticking, add a tablespoon of water and mix well. Check again, and add water, 1 tablespoon at a time, until you get the pea-sized bits. Set aside mixture for later.
To make the casserole:
Core and dice your pineapple. You need about 2 cups diced pineapple. Combine the pineapple with cinnamon, ginger, nutmeg and salt. The potatoes are done with a knife can easily slide in and out. Remove from oven and let cool. When potatoes are cool enough to handle, simply peel off the skins. Combine the sweet potato flesh with the pineapple spice mix. Mash to desired smoothness. For completely creamy, best to use a food processor.

Spread potato pineapple mixture into a 9-inch baking dish. Sprinkle the pecan streusel topping over the top. Bake at 350 degrees for 8-10 minutes until golden brown on top.
Maybe Uncle Bob and Cousin Tamara can get on board with you at another family gathering. After all, researchers continue to find and more benefits to following a plant-based diet, including lowering LDL (aka bad) cholesterol, preventing heart disease and high blood pressure, helping to control blood sugar in people with type 2 diabetes, and improved body weight. Let science, your conscience, your improved health and your new plant-based holiday traditions do the talking!
What questions do you have about the benefits of a plant-based diet?
Tell us about it in the comments below!
What topics related to a plant-based diet would you like to see us research?
Email us at info@painresource.com with your ideas!
Are you a member of our online community?
Join the fastest-growing chronic pain community by clicking here!